The following two tabs change content below.
Latest posts by techwriter (see all)
© Ugur Akinci
Network terminology comes up in all kinds of hi-tech documentation, whether you're documenting a network or not since there are a lot of software-hardware systems out there that are installed as one network or another. So it would really help you if you knew the basics of network technology and the terms and concepts that go with it.
Here are some basic network components that you should be crystal clear about when talking to your manager or client: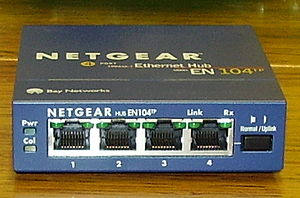 (Above: a network hub. Image courtesy of Wikipedia.)
HUB: This is the most "non-smart" component in a network. A hub basically distributes an input "signal" (and I use the term with caution in the case of a hub) to ALL the other components it is connected with.
A hub is a "repeater". While outputting an input voltage, a hub does not discriminate among any network components. That's why sometimes a hub can overload a network with "colliding" signals since it cannot discriminate between relevant and irrelevant targets. It cannot decide where the output should exactly be directed at.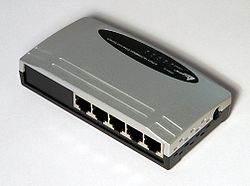 (Above: a network switch. Image courtesy of Wikipedia.)
SWITCH: A switch is smarter than a hub since it has the on-board computing power to select the exact target of the input signal. By using MAC (Media Access Control) address of the network components, a switch provides "precision delivery" without overloading the network with indiscriminate and "colliding" output signals. Usually PCs on a network connect to a switch to reach other network components like printers and other PCs.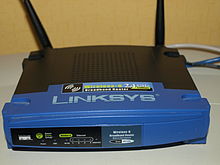 (Above: a Linksys wireless router. Image courtesy of Wikipedia.)
ROUTER: A router is the smartest of all network connectors since it connects separate networks and carries signals from one network to another. In this arrangement, switches connect to a router before a signal leaves a network and travels to another.
Routers are so smart they keep a "route table" (and update it automatically) to send a signal to the closest "gateway router" if they do not know the exact location of the destination machine. For that purpose, a router finds its way around the Internet by using IP addresses (just like a switch uses MACs).
In a sense, routers are powerful mini-computers with their own CPU chips and it's safe to say that the Internet is built on routers; the Internet in one sense is nothing but a global network of interconnected routers.
There are also hybrid models of router-switches which are as expensive as they are powerful since they do the job of both a switch and a router at the same time.
This topic is obviously so broad and deep that you can become a network engineer with a Ph.D. studying nothing but networks. But I think for our limited purposes here, this brief introduction should be sufficient. A technical writer should at least keep these basics in mind when approaching a documentation project that involves network components.