The following two tabs change content below.
Latest posts by techwriter (see all)
© Ugur Akinci
This morning I heard an amazing statistics on the radio: in Spain, the unemployment rate for those in their twenties is 45%! That's an astonishingly high unemployment rate. I really respect the Spaniards who are trying to weather this tough economic storm bravely, by saving as much as they can for the dire straits ahead. I pray for them and wish them well.
The reason I'm writing this post is this: a commentator also ventured his opinion as to why, after a decade of relative prosperity, this unemployment problem hit Spain so hard.
According to this analyst, ten years ago Spain welcomed a construction boom whipped up by low interest rates and cheap mortgages. The famous "housing bubble" that we are so familiar with here in the United States expanded like it was never going to end.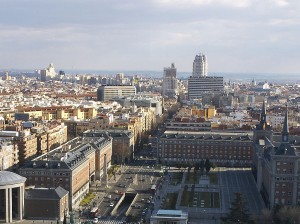 And at that point Spanish teenagers apparently started to question the value of a college education. A college education after all  is expensive and it takes four of your most productive years away as an investment for the future.
(Left) Plaza de Moncloa, Madrid, Spain byw:es:Usuario:Barcex
Construction jobs were plenty back then and they were paying well too, despite the fact that they did not require the kind of training and investment that medicine, law, or (yes) technical communication require.  Thus, as long as the housing bubble lasted, folks in their twenties not only made good money (relative to their education level) but they were never out of a job either.


Now, just like in many countries in the West, those low-education high-pay construction jobs are not available anymore. I suspect there are still positions available in the hi-tech industries but they require long years of training; someone who has worked in the construction industry cannot make the switch overnight to those relatively few but high-paying jobs. It's a sad situation really that perhaps some of my Spanish readers would care to comment on and give us a better insight to help us understand the full picture better.
All this brings me back to my continuing faith and love for education in general, and technical training in particular.
All my life I've been either a student or a teacher, and I'm currently both as I type these words and I know I'll continue to be that way for the rest of my life. I did not have any family riches or family connections when I started out on my career path many years ago. All I ever had in life was my education and training, thanks to the valiant efforts of my dear mother who did everything in life to make sure I'd get a good college education. That kind of a background always saved me and took care of family even in the worst of times.
That's why I say, if you're going to invest in something, invest in your education and training before you do invest in anything else because life is full of twists and turns and unexpected developments. You may not always have the chance to get an education if you postpone it, or if you do not take the initiative when you can. By the time you decide to get it, you may not have the time or the funds or both. But if you have a good education, and keep building on it by regular adult-education and self-training, that will sustain you and your loved ones in life. It will be your best friend in times good or bad, no matter in which direction the economy tilts.