The following two tabs change content below.
Latest posts by techwriter (see all)
© Ugur Akinci
You can save your MS Word 2010 documents as HTML web pages.
TIP: Actually this is one of the ways in which you can easily transform your Word document into Amazon Kindle documents. For that purpose, save your Word file as "Web Page, Filtered" before importing it as an HTML file into the Mobipocket Creator.
(1) Open your MS Word document.
(2) Select File > Options from the menu.
(3) From the navigation bar on the left, select Advanced. Scroll down and click Web Options button to display the Web Options dialog box:
(Click to enlarge the image)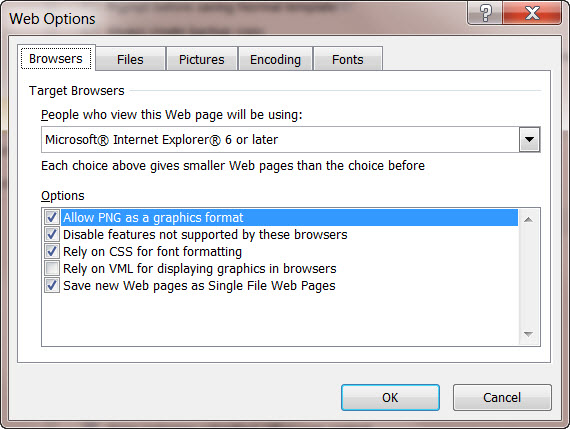 (4) Select "Allow PNG as a graphic format" since PNG is increasingly used these days on the web., depending on whom you speak.
One shortcoming of these settings is the built-in bias for the MS IE browser which is perhaps not the best browser in the market toda. But at enterprise level, most corporations still use IE as their default browser due to IT department policies.
(5) If you know you'll be using a small monitor, change the values in the Pictures Tab; otherwise leave it as is.
(6) If you know you'll be using a non-English language, change both the language and the font family and size in the Fonts Tab; otherwise leave it as is.
(7) Although it is a great word editor, MS Word is clearly not the best HTML editor in the market today. Thus, if you have access to a much better HTML editor like Dreamweaver, you can un-select the Default Editor check boxes in the Files Tab.
TIP: I sometimes even edit certain HTML features (like tables) in the HTML tab of WordPress editor. I know it's perhaps an unusual choice for an HTML editor, but it works for me as far as quick edits are concerned.