The following two tabs change content below.
Latest posts by techwriter (see all)
© Ugur Akinci
From time to time I hear from readers who had their own share from the worst economic downturn since the Great Depression of the 30s. There is no doubt, the market right now is not as good as it had been just four or five years earlier. But I still have reasons to maintain that technical writing is still a good option for those writers who want a steady paycheck.
*** Apples and Oranges
There are three points that can't be emphasized enough:
(1) We need to compare apples to apples, and oranges to oranges. There are of course other jobs and careers that pay more than technical writing. For example, I don't know a single nurse or doctor who is unemployed. But my assumption is we don't enjoy being doctors or nurses. We are writers. So we need to make our comparisons with other types of writing to be fair about it.
(2) Location does make a difference. The worse the economy gets, the more important location becomes. More on this  in a moment.
(3) Conceptually, we should not confuse lack of employment with low pay since there are many factors (see one above) that play into the size of our paychecks. Even those readers that write to me complaining about their situations usually complain about the size of their paycheck, not about its absence.
I know quite a few engineers, management consultants (and even a young lawyer) for example, who are looking for a job for over a year. When I talk to them I can't help but appreciate the kind of steady employment opportunity technical writing has provided me with.
Did tech writing made me a millionaire? Do I get fat a "Wall Street" bonus every year? Of course not. But it would again be unfair for me to say that, as a writer, technical writing still continues to be my best bet to make a modest but steady living at what I love to do with a passion: writing.


*** Comparing with Screenwriting
Let me open an immediate sidebar and share with you this great post by Corey Mandell, as successful a Hollywood screenwriter as they come.: "What Are Your Real Chances of Success."
I still maintain my belief that our chances of finding a paying job as technical writers (location withstanding) is many times better than that of a screenwriter. (And think about it – would you be better off right now if you were writing novels and poems, or chasing news stories as a reporter?)
Having laid out my opinions, now let's look at data since "we are all entitled to our opinions but not to our facts" (author unknown).
*** U.S. Bureau of Labor, May 2010 Data
The latest data I have about employment prospects of technical writers comes from U.S. Bureau of Labor, Occupational Employment Statistics, May 2010. I find this data preferable to that of STC since the sample size is much larger for the official U.S. statistics.
Here are my observations:
(1) Yes, location does make a difference.
The following five states pay the highest (annual mean wage) for tech writers: California ($82,730), Texas ($60,600), Virginia ($76620), Massachusetts ($81,270), and Maryland ($68,290).
In terms of highest job concentration, you can throw in two more states into the mix: District of Columbia [technically not a state] ($62,890), and Washington State ($78.850). New Hampshire pays pretty well too ($75,290).
In terms of metropolitan areas, here are the top paying regions in the United States:
Washington-Arlington-Alexandria, DC-VA-MD-WV Metropolitan Division ($74,320)
New York-White Plains-Wayne, NY-NJ Metropolitan Division ($71,310)
San Jose-Sunnyvale-Santa Clara, CA  ($96,900)
Boston-Cambridge-Quincy, MA NECTA Division ($82,540)
Seattle-Bellevue-Everett, WA Metropolitan Division ($83,000)
Los Angeles-Long Beach-Glendale, CA Metropolitan Division ($89,000)
Atlanta-Sandy Springs-Marietta, GA ($68,110)
Dallas-Plano-Irving, TX Metropolitan Division ($67,570)
Baltimore-Towson, MD ($67,820)
Minneapolis-St. Paul-Bloomington, MN-WI ($65,320)
(Click to enlarge the image)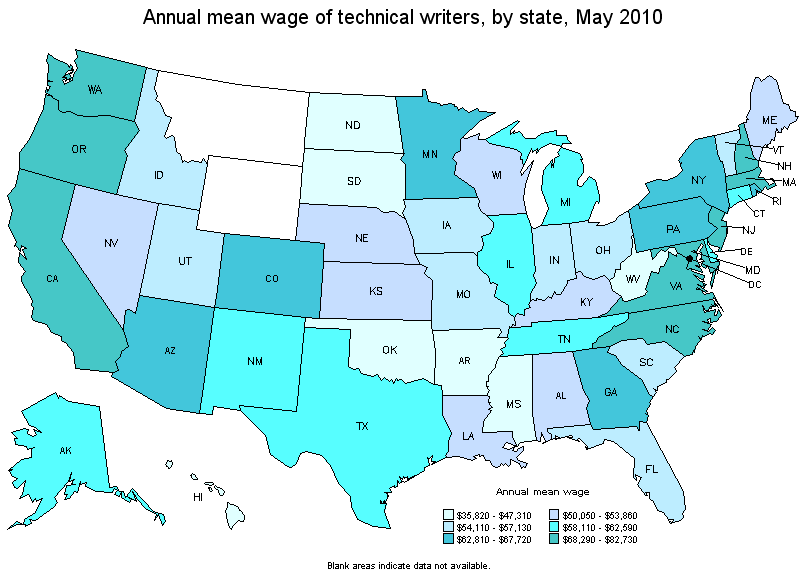 (2) The industry sector makes a difference as well.
Here are the highest paying sectors where technical writers are employed and the annual mean wage they receive:
Wireless Telecommunications Carriers (except Satellite) ($84,730)
Computer and Peripheral Equipment Manufacturing ($82,960)
Electric Power Generation, Transmission and Distribution ($78,330)
Independent Artists, Writers, and Performers   ($77,130)
Electrical and Electronic Goods Merchant Wholesalers   ($76,650)
The most surprising in this picture is the resilience of independent technical writers who continue to pull down an annual wage of $77K even in midst of a recession! If that does speak for the strength of an occupation I don't know what does.
It is still an "elite" occupation, mind you, with only less than 44,000 technical writers employed in the USA. I bet the situation is the same in most other countries as well. The mean hourly wage stood at $31.85, which comes to a little over $66K in a year.
*** Have you hit the "glass ceiling"?
A detailed breakdown by percentiles reveals that while the bottom 10% makes $37K a year, the top ten percent makes  a little over $100K — a statistic supported by my 13-year experience in this sector. The 50% median make around $63K a year.
So now perhaps you have a better idea where you stand in this business. If you are making less than $40K a year, I'd say you're in the bottom 20% and thus you have excellent chances of improving your situation by looking for a better position. There's no need for despair since that does not represent the proverbial "glass ceiling" in technical writing. $100K is the glass ceiling in our business.
The minute this economy picks up I'm sure the opportunities for technical writers will blossom too, right along with the expansion in all hi-tech investments. Until then shifting locations and/or industry sectors seems to be two realistic data-supported tactics to make the most of it in this lukewarm economy.