The following two tabs change content below.
Latest posts by techwriter (see all)
© Ugur Akinci
The review process is always a critical link in the life cycle of a technical document. The process is prone to errors and riddled with frailties.
Especially when multiple reviewers are involved, it's so easy to duplicate effort or override a change unknowingly. It's a process that needs to be coordinated, with a built-in lock mechanism to prevent simultaneous reviewing by multiple reviewers.
To some extent a software like Microsoft SourceSafe accomplishes that by refusing to save a review if the document is checked out by someone else. However, SourceSafe does not automatically deny a review attempt if the document is checked out. It just denies a save after allowing the review to proceed, which means wasting precious time for nothing. So one needs to be careful when using SourceSafe.
Acrobat.com's collective review interface does a good job in organizing the review process and allowing multiple reviewers to read each other's contributions and enabling the original author to consolidate all the reviews into one final copy. Yet Acrobat's solution, just like SourceSafe, is not-integrated into the main editing software. You create your document on one platform and then submit it to the Acrobat's server.
AuthorIt's review functionality is built right into its single-sourcing platform. It's integrated to the n-th degree, like all other AuthorIt functions. You can write and have your document reviewed by multiple authors all under the same "software roof,"so to speak, without ever leaving the program.
Here are some screenshots that illustrates some of the advanced review capabilities that AuthorIt offers:
It all starts with a clean list of all document in your document, listed by not only the name of the file but also the template it's based on, late of last modification, version number, status, etc.: (BELOW)
(Click to enlarge the images)
From that list, you can select a single or multiple files for a review: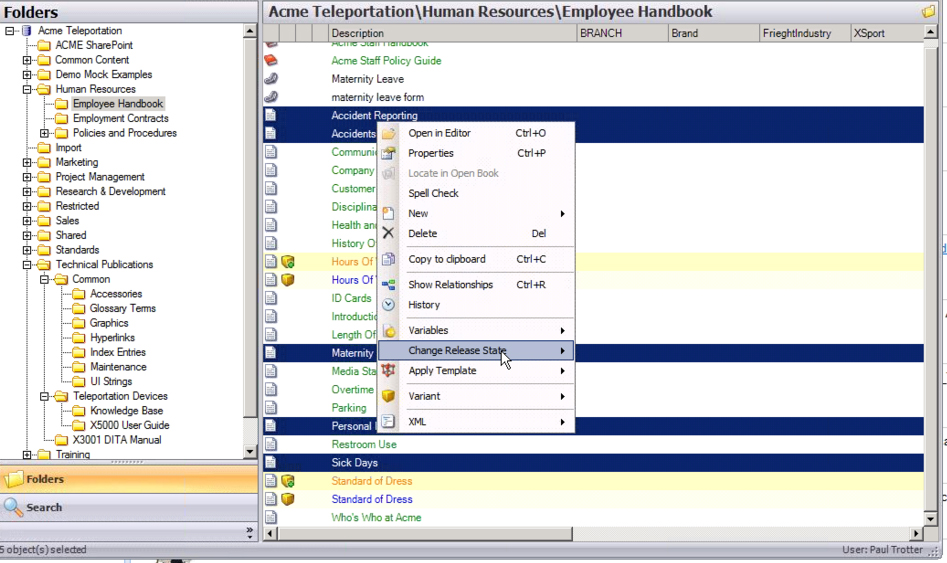 You create the review by assigning mandatory and optional reviewers, plus authorized editors to the document. Notice the sophisticated review variables that can be assigned on the left side of the screen, like review start and end dates. (BELOW)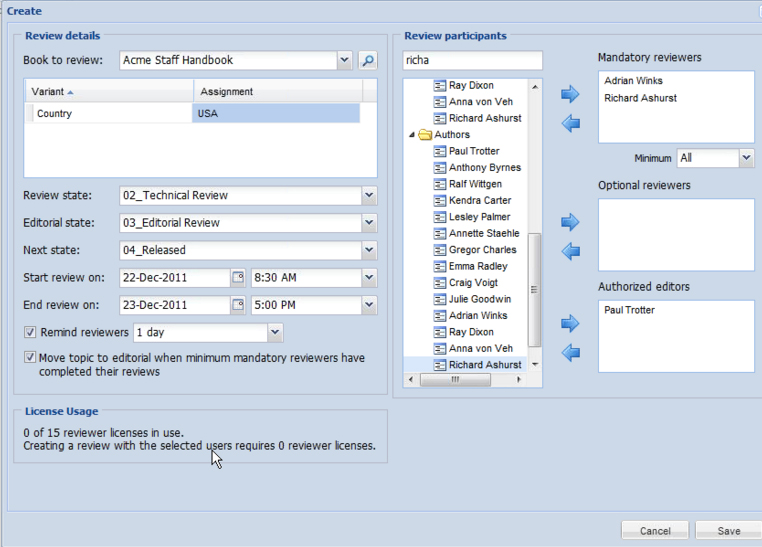 To insert a review comment is very straight forward, through the Suggested Replacement dialog box: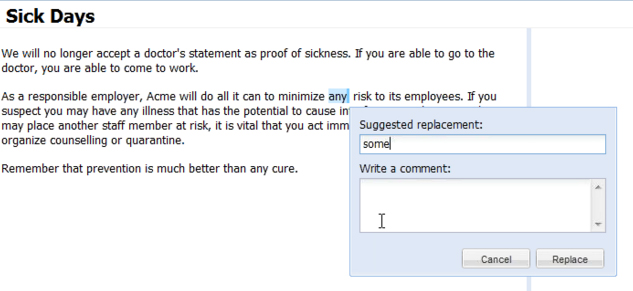 One of the really smart twists AuthorIt brings to the review process is the social-network like functionality through which the authors, reviewers and editors can comment back and forth about the proposed changes and carry on a lively dialog in real-time: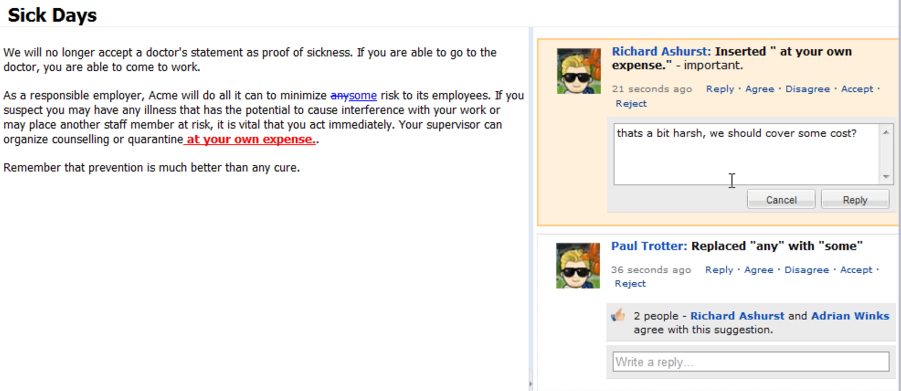 If you like, you can view all such review chat and comments in one screen: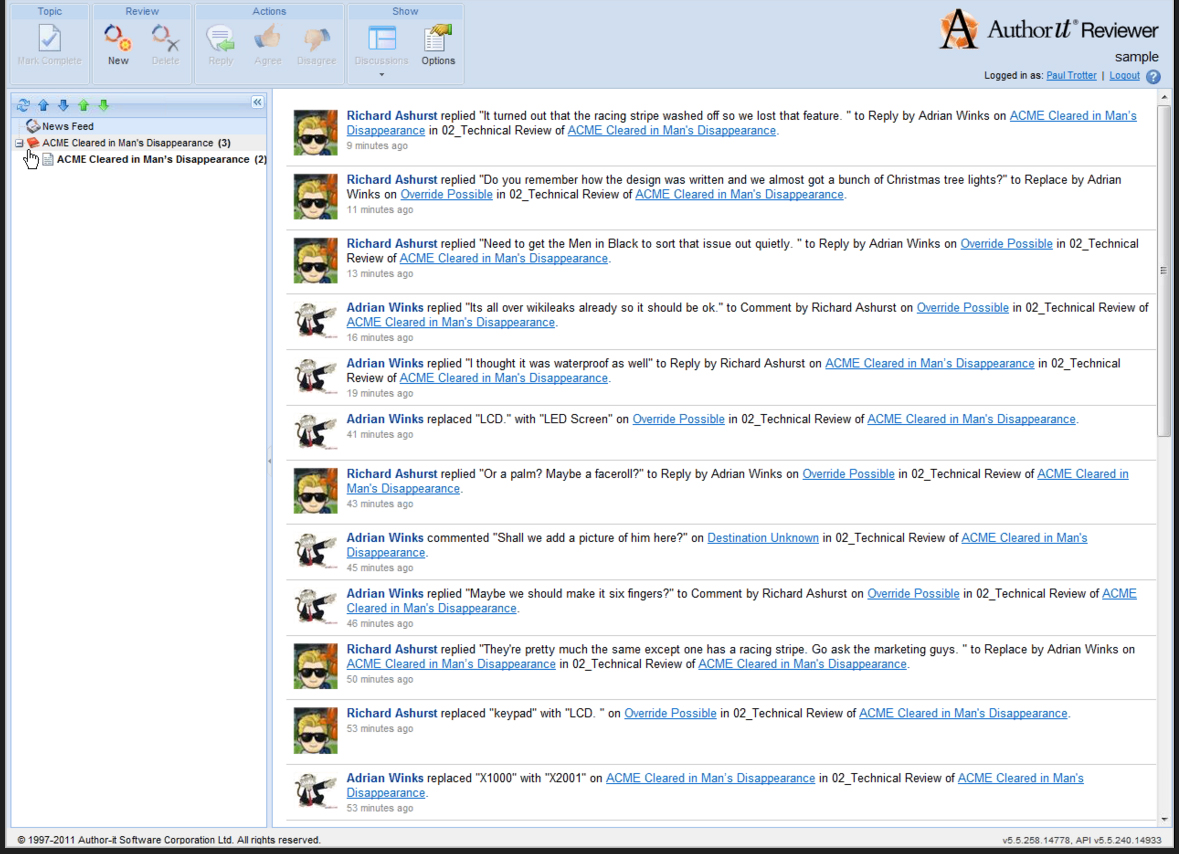 In the final stage, an editor can accept or reject a review comment easily by clicking a button: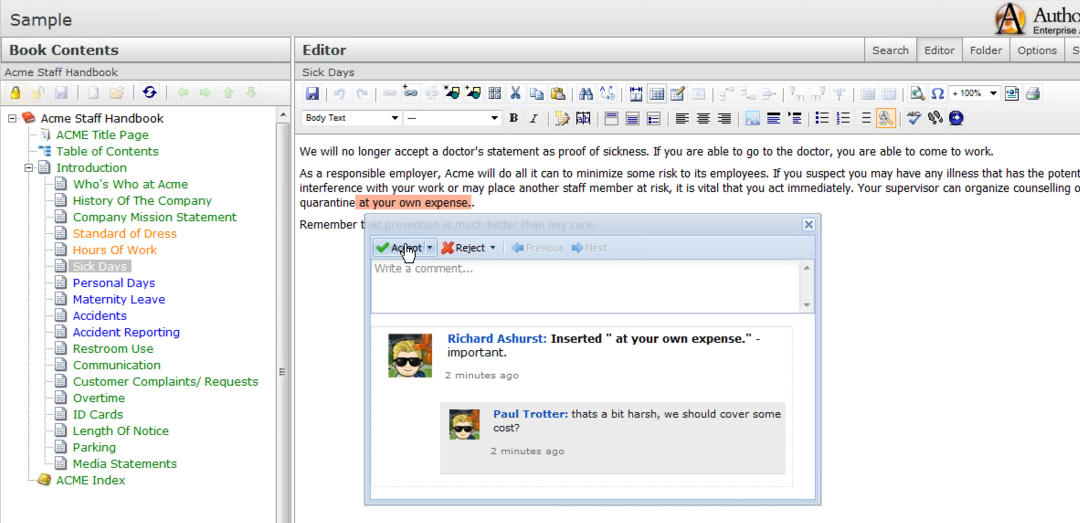 AuthorIt also provides a graphical representation of the review status of the document: