The following two tabs change content below.
Latest posts by techwriter (see all)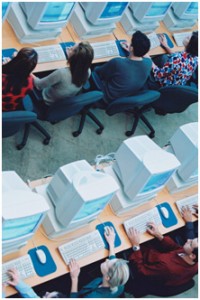 © Ugur Akinci
My top advice would be to develop a personal portfolio to break into tech writing. Nothing speaks louder for your skills than a finished work or two at hand.
One thing I recommend to my readers and students is to write a user's manual for a freely available software like OpenOffice. It does not need to be complete or perfect. Just for example write a manual on how to 1) design a template and then 2) write a book based on that template by using OpenOffice, or any other software for that matter.
One or two manuals like that (each perhaps 30 to 50 pages in length, including screen shots) should be sufficient to give a good idea to the recruiter or prospective client about your tech writing (and information design) skills.
One other piece of advice is to learn some of the specialized tools widely used in tech writing. A relevant software skill is always an advantage. FrameMaker, for example, is one such writing tool and is asked by most top-level tech writing recruiters that I know of. You can break into tech writing with MS Office and Word as well which might be ideal for a junior tech writer.
Since (according to a recent research) 60% of what a typical "technical writer" does involves not writing but actually DESIGNING the document in question, graphic and information design skills is a clear advantage in this niche. If, for example, you're good with Photoshop, InDesign, Dreamweaver or Illustrator consider yourself lucky because that will be definitely a plus in your search for a tech writing job.
Just like in real estate, location also matters in tech writing. The more industrialized and crowded an area, better will be your chances to find a tech writing job. Some of the best tech writing locations in the United States are Washington DC-Northern VA and Washington DC – Baltimore corridors, North Carolina Research Triangle Area, San Diego, Austin TX, Boston and vicinity, New York City – Northern NJ, Seattle-Portland area, Chicago, etc. Craigslist and Freelance Writing Jobs are great places to check out on tech writing jobs.
Technical writers took a hit just like everybody else during the recession of 2008-2010 but I have every reason to believe that it'll make a comeback. By definition, when the economy makes a comeback, so does documentation and technical communication.
A side note — before the recession hit us, an STC (Society for Technical Communication) Salary Survey showed that the highest paid senior tech writers in America did work in Nevada and made a little over $114,000 a year. I hope we'll go back to that level of career opportunity and abundance sometime in the near future.