The following two tabs change content below.
Latest posts by techwriter (see all)
© Ugur Akinci
A super gift for all lovers of science, culture, and humanities. Boltzmann's Tomb: Travels in Search of Science
is a virtuoso performance by a geochemist at the peak of his game.
The book's narrative fabric is woven out of three different strands:
(1) The illustrious author's own personal journey beginning in Pennsylvania and Ohio and taking him around the world, all the way to the amazing lakes of Antarctica.
(2) A trip through the history of science by spotlighting major turning points in astronomy, physics, and chemistry.
(3) A poetic visit to over a dozen cities in the West which were home to major scientific breakthroughs, seasoned with an anecdotal look at the lives of famous scientists behind such momentous discoveries.
Prof. Green's enthusiasm for science and his love for the magic of life is evident on every page. I suspect the same fascination is widely shared by all scientists who reach a certain stage in their careers.
However, what may be unique in Green's case is the dreamlike quality of his prose which in those sections where he is reminiscing about past events that are dear and personal to him acquires a sparkling flow-of-consciousness sheen that uplifts our hearts. If all scientists could write like this many poets would probably go back to school to study geochemistry.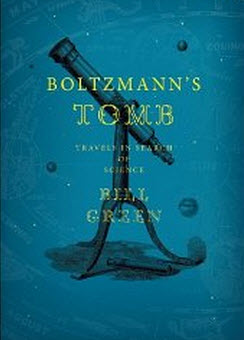 One strand that runs throughout the book and spills over to its title is the Austrian chemist Ludwig Boltzmann's entropy formula, which gave rise to the second law of thermodynamics. This law states that, in a closed system, disorganization increases constantly unless energy is introduced to the system from outside.
The Second Law is so universal that it explains a lot of things ranging from why your socks and underwear get out of order so quickly in your closet to why a gas escaping from a flask never goes back into the same container again, or… why we don't live forever, but get old and eventually die. The author sees the handiwork of increasing entropy in almost all facets of life, from daily mishaps to things more massive in scale like the continental drift.
The way Prof. Green creates numerous multi-layered connections between astrological and scientific facts, on the one hand, and personal observations, on the other, makes a richly-rewarding read indeed.
Highly recommended.