The following two tabs change content below.
Latest posts by techwriter (see all)
© Ugur Akinci
If you use Illustrator you owe it to yourself to check out Illustrator CS2 Killer Tips, an eye-candy jewel of a guide.
Lavishly illustrated and printed on smooth high-gloss paper, this volume has enough tips and tricks to keep you busy for the whole year.
Here are the Top 10 tricks from this book that I've actually used:
1) How to draw a perfect 5-cornered star (p.87)
2) How to split a rectangle into a grid of evenly spaced bands/rows (p.86)
3) How to make your own seamless desktop patterns (p.119)
4) How to rotate text characters (p.237)
5) How to add text to a banner (p.198)
6) How to move objects to a different layer (p.172)
7) How to round joints (p.128)
8] How to use global color (p.121)
9) How to use multiple strokes in the Appearance palette (p.127)
10) How to create threaded text blocks of any shape (p.244)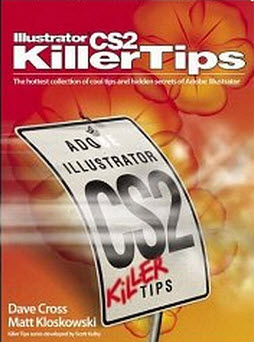 Highly recommended for illustrators of all skill levels.