The following two tabs change content below.
Latest posts by techwriter (see all)
© Ugur Akinci
MS Word 2010 offers two kinds of dictionaries: 1) The standard default dictionary that gets installed with the MS Office, and 2) the CUSTOM dictionary. Any words that are not in the standard dictionary can be added to the custom dictionary.
What's more, you can create more than one custom dictionaries. For example, for all your medical spreadsheets, you can have a medical dictionary. But we recommend to maintain only a single custom dictionary for ease of maintenance.
Let's illustrate with an example. Imagine you have a MS Word 2010 document. You run the spellchecker by selecting the Review tab and then clicking the Spelling and Grammar button:
(Click to enlarge the images)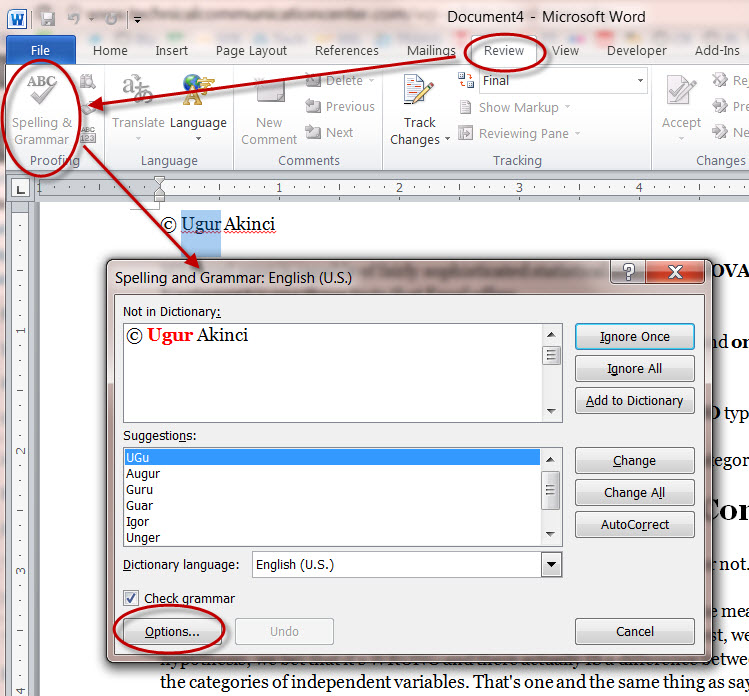 As you can see my name is flagged as a word not in the dictionary.
You have a few choices here:
IGNORE ONCE – click this to ignore the word for once only. The second time "Ugur" occurs, Excel will flag it again as "not in the dictionary."
IGNORE ALL – Word will pretend this word does not exist at all and will never flag it in this document.
ADD TO DICTIONARY – Word will add "Ugur" to the dictionary and will not flag it anymore as an unidentified word.
CHANGE – Change "Ugur" to the suggested "UGu" or any of the options offered in the Suggestions list box.
CHANGE ALL – Change all occurrences of "Ugur" to the suggested "UGu" or any of the options offered in the Suggestions list box.
AUTO CORRECT – From now on, everytime Word encounters "Ugur" it will automatically change it to "UGu".
CANCEL will cancel the spell checking.
"What if I added the wrong word to the CUSTOM dictionary by mistake?"
Excellent question since that happens quite frequently. In that case you edit and manage your CUSTOM dictionary by doing the following:
(1) When Word 2010 flags "Ugur" as an unknown word, click the OPTIONS button to display the PROOFING pane of Word Options screen: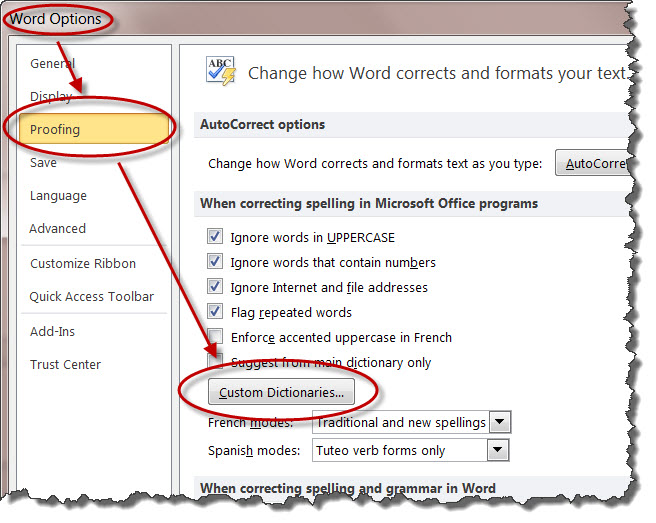 NOTE: Even if Word does not flag any unknown words, you can still select the Word Button > Word Options to display above screen.
(2) Click CUSTOM DICTIONARIES button to display the CUSTOM DICTIONARIES screen: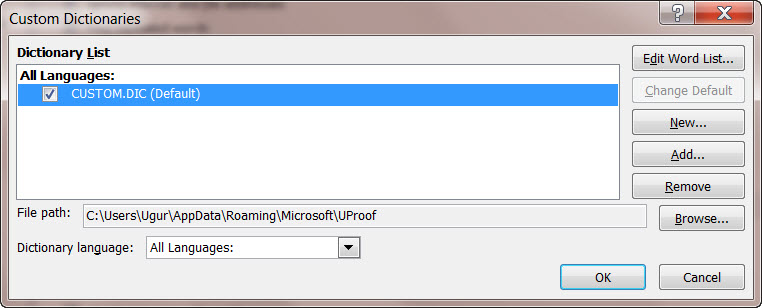 (3) Click Edit Word List button to display the CUSTOM.DIC dialog box:
As you can see "Ugur" is listed in the CUSTOM dictionary. Why? Because we've just added it by clicking the Add to Dictionary button during spell checking, remember?
(4) The choices are:
DELETE – Click this to delete "Ugur" from the CUSTOM dictionary.
DELETE ALL – Be careful with this one since if you click, it will delete all the words in your CUSTOM dictionary! A very dangerous button indeed.
ADD – Click this to add any new word that you can type in the Word field.
(5) When you're done with editing your CUSTOM dictionary, click OK and get out of it.
(6) Back at the Word Options screen, you can configure the following spell checking options: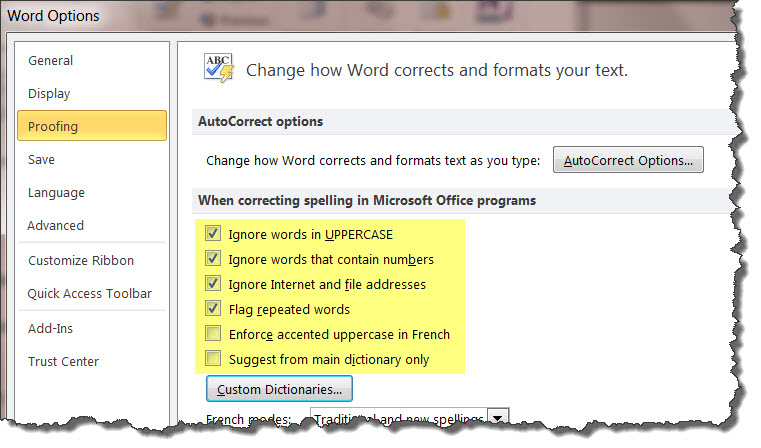 Ignore words in UPPERCASE (like USA, or EU) – self explanatory.
Ignore word that contain NUMBERS (like K9, or Catch22) – self explanatory.
Ignore Internet and file addresses – self explanatory.
Flag repeated words – self explanatory.
Enforce accented uppercase in French – for French users.
Suggest from main dictionary only – this selection bypasses the CUSTOM dictionary all together. This might be useful if (let's say) your CUSTOM dictionary is full of acronyms that are meaningful and valid in one document but does not make sense at all in another. In that case, to flag all those acronyms which are in fact spelling errors in the second document, you might select this option.