The following two tabs change content below.
Latest posts by techwriter (see all)
© Ugur Akinci
SmartDocs is basically a mother of all MS Word macros on steroids. Take this not as a critical remark but rather as praise since, from what I've seen at Lisa Pietrangeli's Thirtysix Software webinar, this is one integrated single-sourcing software that can make your life so much better if you're a dedicated user of MS Word (which I assume covers at least a couple hundred million users around the world). I agree with Pietrangeli's assessment that you can start using SmartDocs today for your technical documents but before you know what you can find yourself using it in the marketing department, HR department, etc. since its capabilities can be applied to any sort of documentation process, really.
Here is a summary of the things I liked about SmartDocs:
(1) Straight-Forward GUI. SmartDocs shows up as a TAB on your Word's ribbon. How basic and convenient is that? Very. That's why this great program really feels like it's a part of the word. Check out the SmartDoc tab:
(Click on all images to enlarge them)

Another GUI feature I liked are the dynamically changing tabs that match your editing screen and ribbon selections. For example: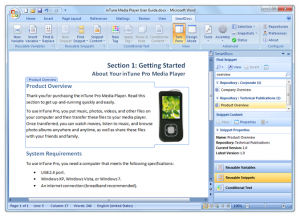 Clicking the Task Pane button (on the ribbon) displays the list of all the tasks you can tackle on the right side of the editing window. When the user selects a reusable snippet from the list on the right, detailed snippet properties are displayed in the above pane and the snippet itself (if already inserted) is highlighted in the document text. Cool.
(2) Reusable Snippets.  This is of course not an original idea at all but a timeless one since it's always useful to have ready-use-library of text, tables, and images that you can insert into the text at the click of a button. As far as I'm concerned, this is the heart of any single-sourcing application. You can add, delete, and edit any snippet at any time you want. SmartDocs keeps good track of all those changes and saves the info in its database.
(3) Reusable Variables. This is another core feature (what we used to call "user-defined variables" in programming). Instead of making changes in a  thousands places in different versions of the same document, you can insert a variable and change that variable, and watch the change cascade down to all the pages automatically. Again, not a new idea but a must idea and SmartDocs executes it well.
When you select the "Reusable Variables" option in the Task Manager page (the right side of the screen), two types of variables are listed: Document Variables (those "user-defined" variables that are used only in the specific document) and Repository Variables (those "system" variables that are used in all documents like company name and address).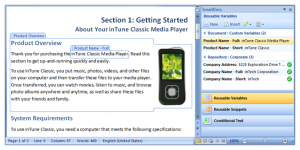 It's all click and insert. No brainer really. You can add, delete, or edit any variable you like, at anytime.
(4) Conditional Text. Again, if you have a single-sourcing you have to have some kind of conditional text functionality. It's a must. FrameMaker, Author-it and other applications have one. So does SmartDocs. You assign a different color to each condition. Then you select and apply the condition to the document. The conditioned text etc. appear in its assigned color but print like a regular MS Word document (or PDF) when you Print at the end.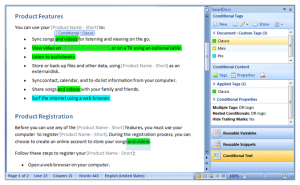 (5) Document Snapshot. This struck me as a rather imaginative functionality that you see in a lot of top-notch image editing programs (like Photoshop for example).
From Lisa's webinar I gathered this much: you take certain "snapshots" of your Word document, complete with all the variables, snippets, and conditional text assigned to the document at that point in time. You not only can revert to that "snapshot" anytime you like (imagine having multiple "revert to T1 in time" button at your command), but you can also allow a variable change (for example) cascade down to all the snapshots you've saved earlier. Lisa gave the example of a document that had 50 snapshots for 50 different U.S. states. If, for example, you changed a variable or conditioned text that's embedded in those snapshots, all your documents get updated simultaneously. Neat.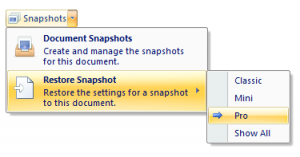 I liked SmartDocs. It reminded me of those RFP add-on modules that I once used many years ago (see: "RFP Machine") while creating RFP responses in MS Word. Those modules were simple but they did the job relatively well. I thinks SmartDocs is a vast improvement over those macros. MS Word add-ons have certainly come a long way since the late '90s.
We may cover more aspects of SmartDocs in the days ahead time permitting but so far these are our first impressions and they're all good. Recommended if MS Word is your main text editor around the office and you'd like to generate different single-sourced documents from the same core document components. A time saver indeed.
P.S. If you're trying to generate online HTML documents, SmartDocs is not for you at this point. But you certainly can generate great Word, PDF documents and online help products with this versatile platform.
Some PERFORMANCE STATISTICS shared by Lisa Pietrangeli:
Reusable snippets used to create documents over400 pages in size.
Over 30 reusable variables used successfully  in document content 250 times.
Over 50 conditional tags and nearly 1,000 instances of conditional content used successfully.