The following two tabs change content below.
Latest posts by techwriter (see all)
© Ugur Akinci
Nicky Bleiel is a senior technical communicator, past Lead Information Developer for Doc-To-Help at ComponentOne. She is currently the Watson Information Developer at IBM and Immediate Past President, Society for Technical Communication. Her website is www.nickybleiel.com.
(1)   How long you've been a technical communicator? Where do you work right now? How would you characterize a typical day at work?
I have 17 years of experience in technical communication; writing and developing information for software products in the user assistance, media (TV/Radio), industrial automation, simulation, and pharmaceutical industries. For the past 5 years I've been the Lead Information Developer for Doc-To-Help at ComponentOne, where I focus on developing information that improves the user experience but is still efficient to produce. I develop and deliver training, create videos, blog, participate in forums, deliver webinars, and I am the host of a podcast series. A typical day will include creating content – although the type of content will vary – and working with customers.  On other days I train customers, or give talks about various technical communication topics.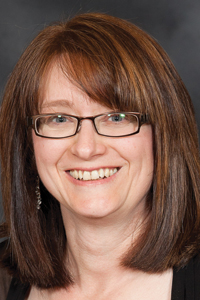 (2)   How did you become a technical communicator? Did you start out as one or did you switch to it from something else? What was the reason?
It was a very natural evolution for me. I have a degree in Journalism, and started my career as marketing writer in various industries, including a nonprofit with a science/engineering focus. Then I went on an interview at a software company for a marketing position, and they thought I had a skill set that would be perfect for their fledgling documentation department. Since I was interested in technology and being part of a product team, I took the job. They were right, it was the perfect fit.
(3)   What is the single most important change that you see in the technical communication sector since you first became a technical communicator?
The emergence of social media is transformative, and has changed the way we interact with customers – and gather ideas and opinions from them – for the better. However, taking a software industry perspective, I'm going to step back even further and say the shift from printed manuals to online Help. Why? Because that's when content became integrated with the product, and technical communicators could start contributing to the user experience. That shift opened the door to so many exciting changes and opportunities. Most of the things we are still continuously improving (content reuse, findability of information, embedded help, etc.) started with that change.
(4)   In your judgement, what is the best and worst thing about working as a technical writer? 
The best thing is being part of the product team. What we deliver is an integral part of the product. But it doesn't end there. Technical communicators contribute in the product development process itself in many different ways. In the software space, this can include usability, UI design, gathering customer feedback, and more.
I also think it is very satisfying to use our skills, tools knowledge, experience, and customer relationships to develop the right mix of deliverables for specific products. This is not a "one size fits all" business.
The worst thing is working under time constraints.  But everyone is crunched.
(5)   What's your advice for those who are just starting out their careers as technical writers and technical illustrator today?
Join the Society for Technical Communication. Becoming a member 10 years ago was the best thing I ever did for my career – I instantly gained a network, and a variety of  opportunities – to lead, teach, learn, mentor, write, serve, judge and win awards — that have always served me well. And I'm not just saying that because I'm on the STC Board and a candidate for Vice President. Being an actively involved STC member at the community and society level has made a huge impact on my career
In addition, attend events held by local technical groups. You will meet other local technical professionals and expand your knowledge. Pittsburgh has quite a few user groups; I attend the events of the Agile and SharePoint user groups when there are programs that interest me, and the Pittsburgh Technology Council also has interesting programming. Check to see what is going on in your area and get out there and learn.
(6)   What are your views on globalization, out-sourcing, and the way it affects technical writers and technical illustrators in the USA, and abroad?
The term "outsourcing" is, of course, dependent on your location in the world. But we have a global economy; I've worked with team members around the world for many years. The team members were developers, product managers, all sorts of occupations, so all of us work together in a global world. That being said, I don't like to see anyone, anywhere, lose their job, but hopefully when there are shifts in one location, different opportunities open up for everyone affected.
(7)   Are you working on any other projects?
I have a few other tech comm projects in the works. I teach a technical writing class. I am currently conducting a survey project for STC to assess how software development managers view technical communicators. The data will help STC formulate a strategy to promote our profession and its professionals — as well as STC — to these managers. I am gathering the names of a software development managers (your company may use the title VP or director) who would agree to be interviewed, so if you know someone who fits the bill, please send me their contact information.
There is something I haven't launched quite yet and now might be a good time. I have a special Twitter account that I want to use it to gather feedback about why we love our profession. If you are interested, post your reasons by replying to @ILoveTechComm (and follow the account so you can read everyone's answers). I plan to add some additional social media pieces to this experiment, but we'll start here, in 140 character chunks.
Nicky's website is www.nickybleiel.com; follow her on Twitter @nickybleiel.