The following two tabs change content below.
Latest posts by techwriter (see all)
© Ugur Akinci
A WebWorks ePublisher documentation project starts with designing a stationary ("template") in ePublisher PRO. Users who design a stationary are usually those with administrator privileges.
To be more precise: you create a project inside ePublisher PRO and then save it as a stationary.
Regular users (referred to by WebWorks as WRITERS) use ePublisher EXPRESS to generate the final output from the stationary developed by the PRO users.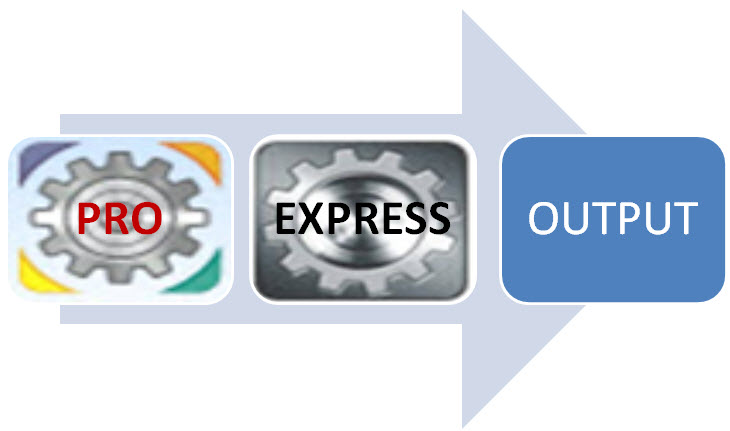 Here are the steps to create a basic stationary:
(1) Launch ePublisher PRO to display the start-up home screen:
(Click images to enlarge them)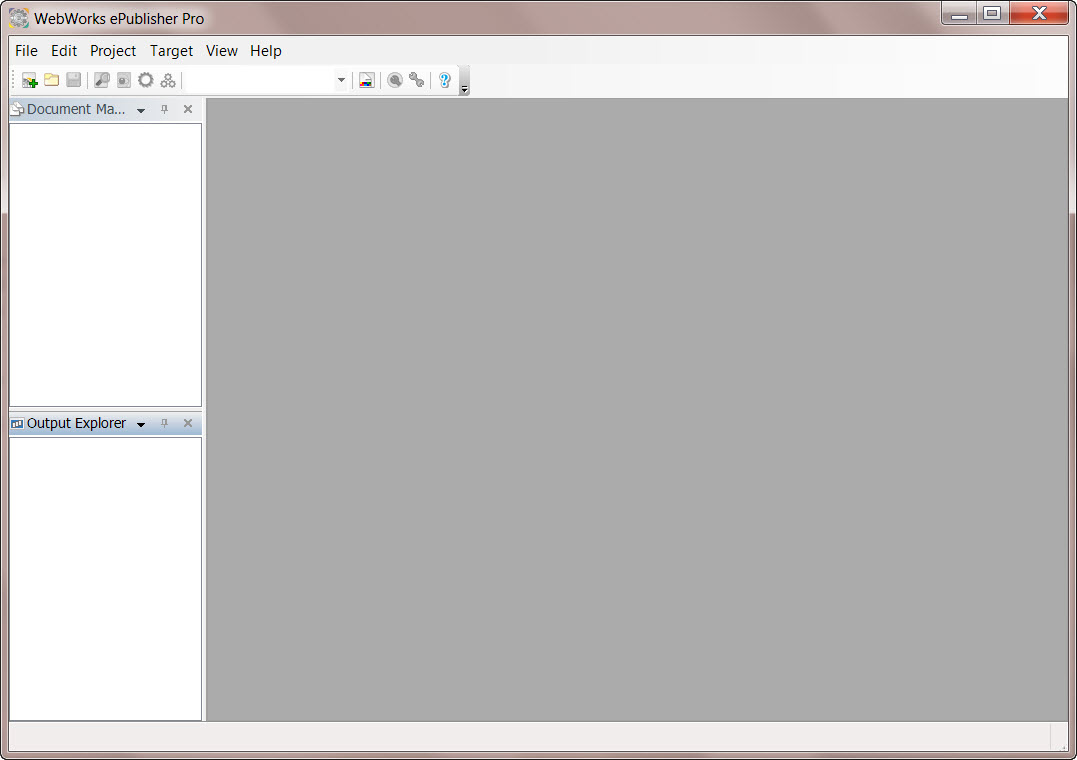 (2) Press Ctrl + N (or select File >NewProject) to display the New Project Wizard screen: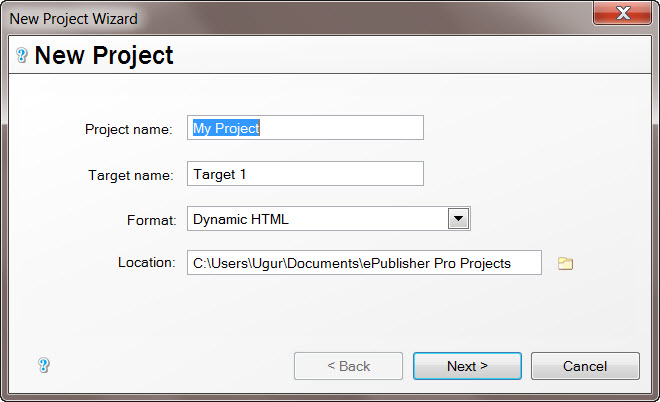 (3) Enter any name you like for your stationary PROJECT. We enter "Sample Stationary".
(4) Enter the output format you like in the TARGET field. We enter "PDF-Word".
IMPORTANT: ePublisher has two different PDF output formats — one for FrameMaker files, the other for Word files. Unfortunately these options are not labelled in a way that an average end-user would understand intuitively. The FrameMaker-PDF target format is simply called "PDF". So if you import Word files with the intention of outputting a PDF file and then select just "PDF" as a target type, nothing will happen because that's the wrong target format for Word files. Instead you should select "PDF – XSL – FO" target format option for Word files.
SUGGESTION: I hope in the next version of ePublisher, these two PDF target format options will simply be called "PDF – FrameMaker" and "PDF – Word". Period. Easy does it.
(5) Select an output format from the FORMAT drop-down list. Select "PDF – XSL – FO" since our source file is a MS Word file.
NOTE: The same project can have multiple targets and if you think about it, that's the whole idea to the single-sourcing process: to generate multiple-format documents (each with a different TARGET format) from a single source document.
(6) Browse and select a LOCATION to save your stationary project. The default location is the ePublisher Pro Projects directory that is created automatically when you download the ePublisher PRO application. We use the default location.
(7) Click Next to add a source document in the dialog box. Click Add to browse and find a source document to use for the styles of your stationary: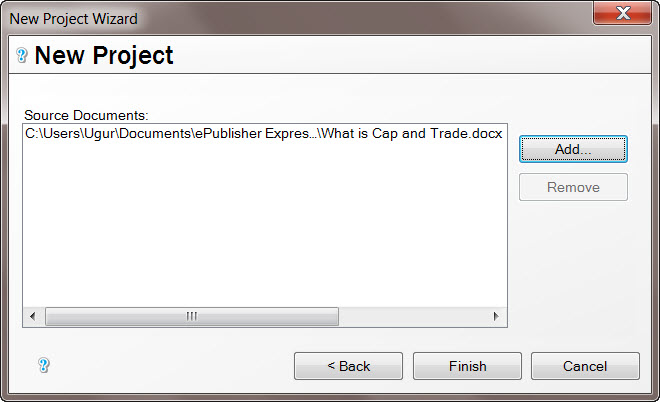 (8) Click Finish to import the source document and display it in the Home screen: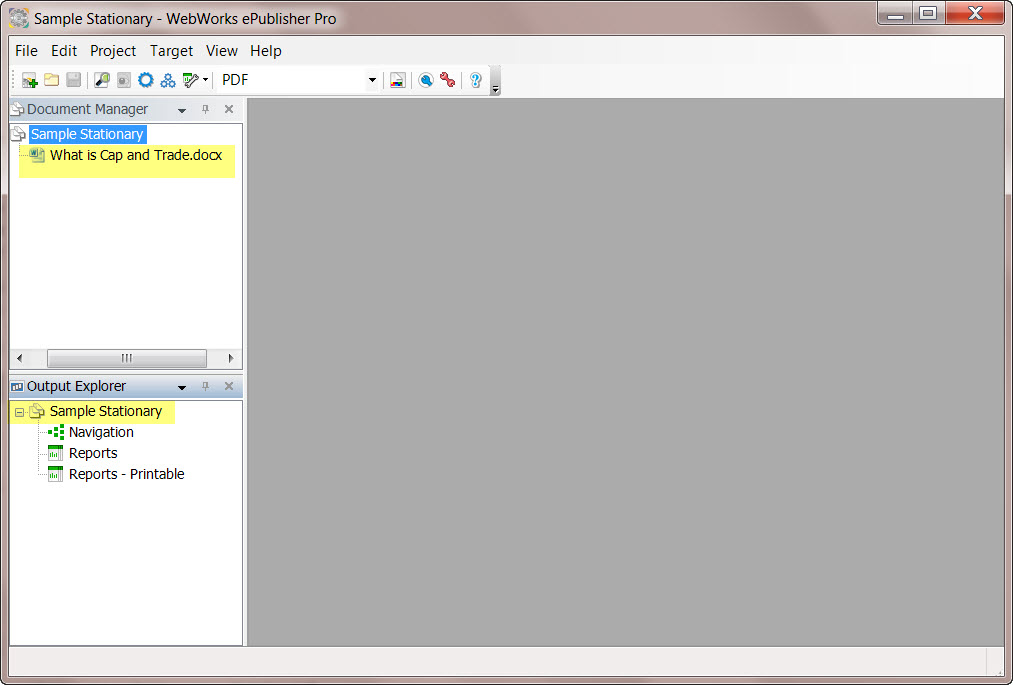 As you can see, the source document ("What is Cap and Trade.docx") is displayed in the DOCUMENT MANAGER pane on the upper-left and the project ("Sample Stationary") is displayed in the OUTPUT EXPLORER in the lower-left pane.
At this point you can save this project as a stationary by selecting File > Save as Stationary.
However, you can also fine-tune it by changing dozens of attributes of the paragraph tags and other document characteristics.
(9) Select View >Style Designer (F10) to display the PARAGRAPH STYLES pane on the right side of the window:
(Click to enlarge the image)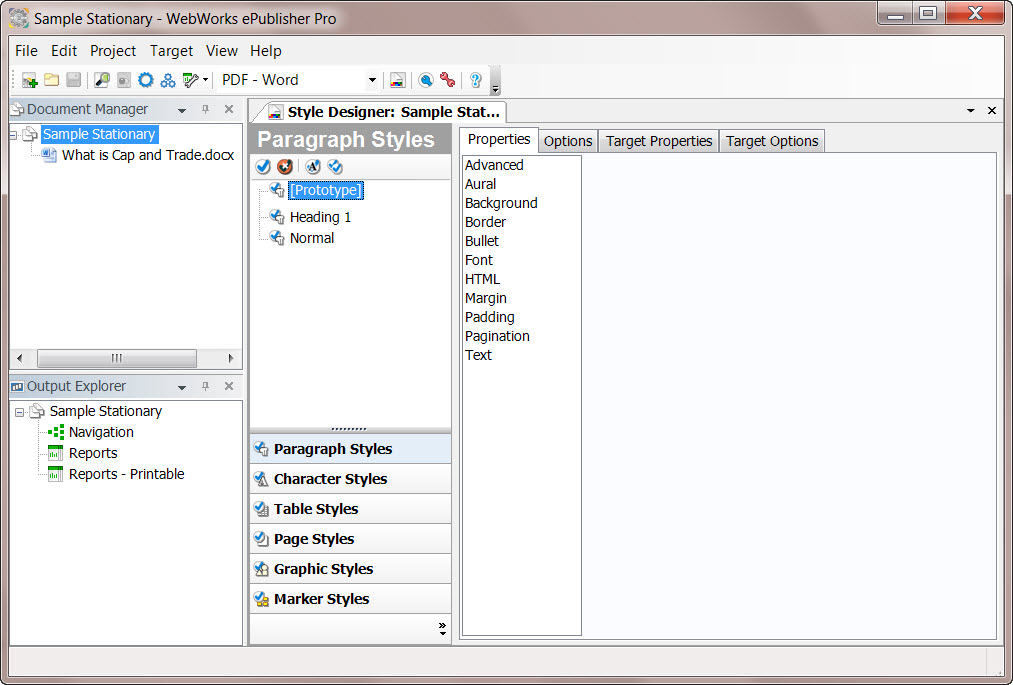 NOTE that just like you can fine-tune PARAGRAPH styles you can also edit CHARACTER, TABLE, PAGE, GRAPHIC, and MARKER styles by clicking their respective tabs at the bottom of the middle pane.
To Change Paragraph Styles
Paragraph Styles pane displays all the paragraph styles imported from the Word source document. But it does not mean you cannot change them and in fact that constitutes one of the many powerful features of ePublisher.
For example, to change the Font Family of Heading 1 style:
(1) Select Heading 1 and then click the Family browsing button to display the Font Family Picker: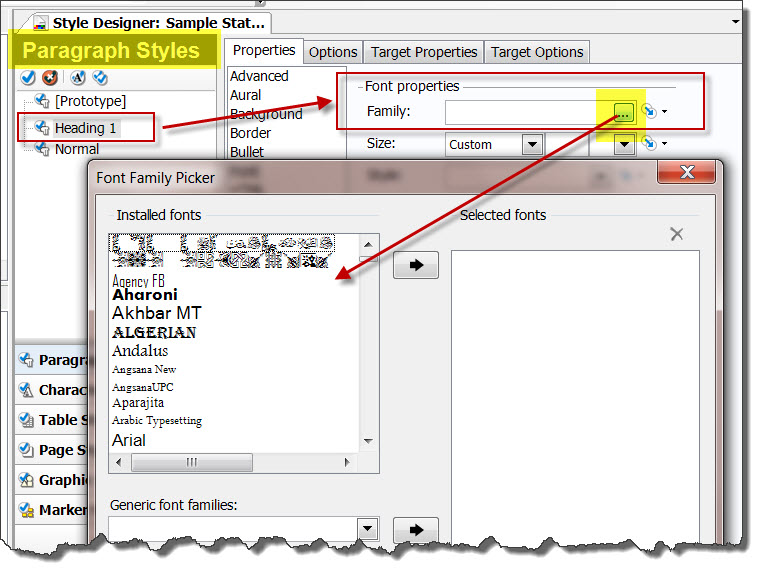 (2) Select a font and then click the RIGHT arrow (—>) to post the font in the Selected Fonts pane on the right. Then click OK.
(3)Select Project > Generate Selected (F5) to generate the PDF file from your Word file. When ePublisher prompts if you'd like to view the output, click YES.
As you can see, Heading 1 has changed from Cambria to Algerian font because earlier we changed the font family attribute of Heading 1 style in ePublisher PRO's Paragraph Styles window.
BEFORE (original Word source document):
(Click to enlarge the images)

AFTER (ePublisher generated PDF document): 

TAKEAWAY POINT: If you save this project as a stationary, any writer creating a new document in ePublisher EXPRESS by using this template for an PDF output will have Heading 1 lines print in ALGERIAN font because it was set that way in the stationary. That's how a stationary ("template") controls the output in different formats.
In this example we have demonstrated just one particular way in which you can edit the PARAGRAPH styles. Don't forget that you can design your stationary by fine-tuning the CHARACTER, TABLE, PAGE, GRAPHIC, and MARKER styles as well. The number of attributes you can edit is too long a list to provide here. But hopefully in the days ahead we'll illustrate some of those possibilities, time and space permitting.