The following two tabs change content below.
Latest posts by techwriter (see all)
© Ugur Akinci
I've been a technical writer for almost 14 years now but I never wrote an "Evaluation Guide." Not only that, I didn't even hear that such a document existed until, that is, I downloaded the evaluation version of the mother-of-all MS Word plug-ins: SmartDocs 2.0.
I was surprised when I received an "Evaluation Guide" with the download. Soon I realized what a great idea it is. I congratulate everyone who designed and generated this very useful document.
Remember the times when you downloaded a free evaluation copy of a software and then sat there looking at what resembles the control panel of an airplane cockpit? Remember how lost you've felt and did not know where to begin from to "operate" the software?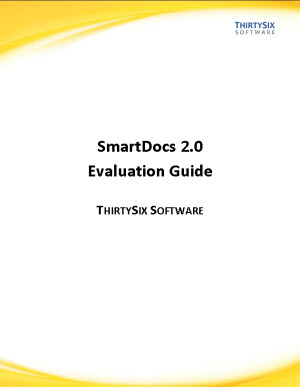 Usually the solution is you're invited to visit the company's web site and watch the videos, read the tutorials, and find your way through the jungle.
But that still means you need to make an educated guess as to which videos/tutorials to do first and which other ones to follow it with. Quickly you realize it's "work." Soon you're discouraged and your enthusiasm fades away.
To prevent such typical "free download burnout," the folks at SmartDocs came up with this fantastic step-by-step orientation guide that's actually a mini classroom-in-a-book.
If you follow this guide, SmartDocs promises:
"At the conclusion of your evaluation, you will have:
A basic understanding of SmartDocs' primary and advanced features
The ability to navigate through SmartDocs both within the evaluation environment and with your own content
Confidence in working with ThirtySix Software to meet your support and training needs
An estimated ROI analysis so that your company can see how SmartDocs can save your organization time and money"
Not bad eh?
I think more software companies should offer such evaluation guides that the prospective users can download and benefit from.