The following two tabs change content below.
Latest posts by techwriter (see all)
By Sharon R Angela
Microsoft Word 2007 is one of the most popular software packages offered by Microsoft and it is comprehensively used for typing letters, reports and many other documents. This application has amazing features to be used for desktop publishing. Apart from this particular feature, Word can also help you dealing with equations.
This is equally useful for all including a student, entrepreneur or professional. This built-in MS Word 2007 equation feature helps you manage equations, spreadsheets, quizzes and deal with mathematical problems conveniently. Before you start using this MS Word 2007 feature you must understand steps required to execute your task. This article is an effort to let you know about the ways of handling equations through MS Word 2007.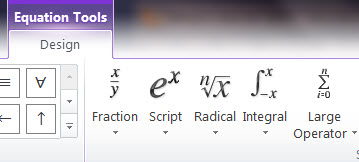 Steps for adding equations in MS Word 2007:
First of all select the location on the Word document where you want to add the equation with a click of your mouse
Alternatively, press 'Enter' if you want to place the equation in the center
Now reach to 'Symbols' group through 'Insert' tab and click the arrow that is appearing with 'Equation'
You need to click here either 'Insert new equation' or 'built-in equation'.
If you have chosen to build a new equation then again following step are to be followed:
Insert New Equation >> Equation tools >> Design tab >> Tools group >> Equation
After clicking 'Insert a new equation,' you need to click the 'Design' tab to finally reach 'Equation' via 'Tools' group
When you click 'Equation,' a built-in application gets inserted into the document.
In order to make custom changes in the application you need to click 'Normal text,' 'Linear' or 'Professional'.
Adding common alpha-numeric characters with this feature is very easy and that can be performed by using the keyboard.
To insert special mathematical symbols follow the below mentioned steps:
First click on the 'Symbols' group through 'Insert' tab
Click on 'More' button to see mathematical symbols.
Furthermore, if you want to insert any Greek letter or script then you have to click on the arrow appearing at the top of the symbols gallery.
By following the above-mentioned steps you can easily put special mathematical symbols while working on MS Word 2007. You can also customize symbols to appear in various forms. Choosing a Greek letter or script to add to the equation is not at all difficult and you can do it with a few mouse clicks. Thus you can add even the most complex formula and equations to your document and make it more informative and useful.
Using this feature under technical guidance earns huge dividend and you can do your task in very less time without any flaws. The tips mentioned above are very helpful while adding equations or special mathematical symbols to the Word document.
In case you are not being able to solve any other software related problem, it is a good option to seek assistance from an organization providing premium technical support service. Certified and experienced technicians will guide you through entire processes online.
Sharon is an avid tech support engineer offering online tech support to global customers on behalf of qresolve.com, a professional computer support service provider. She carries profound experience in troubleshooting and fixing issues related to PCs, laptops, Mac, smartphone and other emerging technologies. She has widened her portfolio over the time with expert services like virus removal, data backup and recovery, system upgrade and more. Her inherent passion for learning and disseminating technology across the mass has made her to contribute through articles, blogs and other online documents. She intends to help users deal with tech issues without expert help.