The following two tabs change content below.
Latest posts by techwriter (see all)
By Nikhil Khandekar
Guest Writer
In response to the post on Perseverance:
Agree wholeheartedly with every single word about both perseverance and perseveration.
Amazingly enough, I have had an almost impertinent attitude towards things that don't work for me. That there has only been one major change in my choice of vocation is witness to the former fact.
I was a college lecturer for the first 8 years of my life. Had I somehow continued with that, I would have been earning twice as much as I do now – both are reasonably good amounts. But students had stopped caring for an education and were bothered more about the grades they got. Which made the life of a lecturer well and truly miserable.
When I got my first corporate job, I jumped for it. I also went to Bangalore … separated from my family for over two years during which we saw each other for a total of 20 days. I enjoyed the editing work on offer there. Then I went to another city, Ahmedabad, because there was the chance to be or become a web content writer.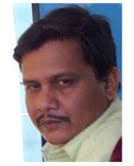 I have been here for almost two years now. I am enjoying the status and the work and the pay. I could have had much more of the last, but who'd reason with me?! It is now eight years since I started my corporate career.
I haven't regretted my career change ever, though I have badly needed the better salary of a lecturer. But it's a small price to pay to be able to do what I love and enjoy. I don't think I wanna do anything else for the rest of my life … writing presents enough challenges to hone my skills further.
I did some technical editing, at International Data Corporation (IDC), Bangalore. Patrick McGovern heads it. Great institution, truly. I'd like to do technical writing too.
Teaching was my first love, so I haven't divorced it. When I find good students, willing and hard working, I'll share the little that I know with them.
Writing, editing, translating … these are passions. I cannot NOT do any of them, regardless of what financial rewards they bring me or not.
But I loved your article. Do keep 'em comin'.