The following two tabs change content below.
Latest posts by techwriter (see all)
© Ugur Akinci
Audio clip: Adobe Flash Player (version 9 or above) is required to play this audio clip. Download the latest version here. You also need to have JavaScript enabled in your browser.
I suspect most of us are still writing and designing our documents for the "book" metaphor. But that's so 20th century, if I may say so.
The book format will of course survive both in its hardcopy printed format and the online PDF format, just like the radio survived and even prospered long after the invention of the TV set.
The TV of the documentation world is the "mobile platform" consisting of tablets (like iPad and its Android counterparts) and smart phones (like iPhone and my wonderful Android phone). Unless we start to learn how to generate documents for these new platforms we'll lose in the job market.
Check out these numbers:
Forrester Research predicts tablet sales in the U.S. will overtake netbook sales by 2012, and desktop sales by 2015.
Gartner projected tablet sales to end users to reach 118.9 million units in 2012, up 98% from 2011. Imagine – 98% increase in 12 months!
Yet, most of us are not XML wizards or computer scientists.
So what's the easiest out-of-box solution to generating tablet and phone-compatible documentation by using FrameMaker and MS Word?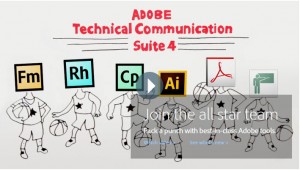 I hear good things and promises regarding Adobe Technical Communication Suite 4.0. Supposedly the new RoboHelp 10 can output directly to mobile platforms as well as generating the traditional HTML, Flash and web deliverables. I'm looking forward to updating my TCS from 2.5 to 4.0 and report back to you.
Did you have any experience with TCS 4.0? What do you think? Can it do the job as advertised?