The following two tabs change content below.
Latest posts by techwriter (see all)
© Ugur Akinci
At the entry level, a beginner technical writer does not need to worry about a lot about communicating the benefits of the information she is putting together. At that level it's mostly about getting things correctly down on paper/screen, making sure every feature is covered, all t's are crossed and i's are dotted.
However, at higher levels of documentation, a technical writer also needs to do two things: 1) Communicate the benefits of the features covered, and 2) Present solutions to typical problems. At that level, the technical writer transforms into a technical communicator and consultant.
One tricky thing about the benefit statement is that sometimes, yes, it is a benefit, but you can't help asking "how relevant is this benefit to my purpose?"
For example, imagine you are out shopping for a pair of jeans and you saw this sign which claims that the cotton used in the production was cultivated "organically." Such a benefit statement would certainly be relevant and highly significant for some shoppers but for most of them it would not have a direct and immediate relevance to their shopping experience. Thus sometimes stating a benefit takes careful thinking about where the consumer or the end-user is coming from.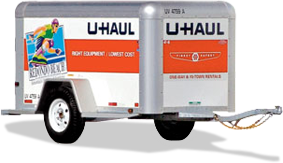 A U-Haul trailer I saw today on the road struck me as an excellent example of a clear and relevant benefit statement.
Printed in the back door of this trailer hitched to a car was the statement: "Queen Size Bed Fits in Here."
It's clear that the U-Haul company researched the typical items people carry with them when they move a house and beds rank high on that list.
They also are clearly aware of the ambivalence a typical consumer goes through when selecting a trailer — which size should one choose? It of course depends on the size of bed you carry. And by associating that trailer with a very specific bed size, U-Haul removed that question mark from the consumer's mind. I really liked that.
When you are writing your documents think about the kind of "bed" (typical use) that will fit into your "trailer" (document) and announce that clearly in your introduction or perhaps even on the cover of the document. They'll thank you for it.