The following two tabs change content below.
Latest posts by techwriter (see all)
© Ugur Akinci
For me, one of the most frustrating features of FrameMaker is the inability to change the default attributes of anchored frames.
Well, yes, if you're a crackerjack programmer you actually can reprogram the default values of FM anchored frames but the rest of us mortal folks have to live with the following default values: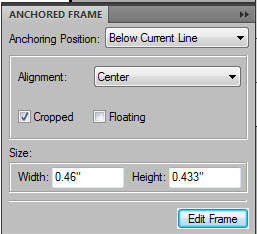 The width and the height obviously depends on the graphic object imported but the CROPPED box is always checked and the frame is always introduced smack in the center of the page. So if you have 1,000 images that need to go on the LEFT and UNCROPPED, in FM9 you have to edit each frame by hand, one by one!
Now I hear FrameMaker 11 offers a way to partially fix this very annoying problem. It offers assignable OBJECT STYLES for anchored frames.
I'm pleased to hear that now, after creating the default anchored frames, I can create a new OBJECT STYLE (left, unanchored, 5 inch in height and 6 inches in width, etc.) and then assign that style globally to all the anchored frames in a document in a single move. That's wonderful indeed! Good thinking Adobe and it makes me wonder why you have waited for this long…  Watch the video here.
How about also giving us an easy to use dialog box to set the DEFAULT attributes of anchored frames as well? That way, we won't even have to create any object styles at all.