The following two tabs change content below.
Latest posts by techwriter (see all)
© Ugur Akinci
Technical writing community is the only writing community I know that every year gains access to comparative statistical data on various aspects of their employment (in the USA), thanks to Society for Technical Communication (STC).
The STC Salary Database, this highly informative guide, is among the many services provided by STC to its members. As a senior member of STC, I'm not exactly impartial in this matter but I nevertheless recommend you become a member today.
This year's Salary Database is full of good news for technical writers in USA. The results support my unscientific observation that the worst is behind us as tech writers and the future looks better and better with every passing day, especially for those living in large metropolitan areas.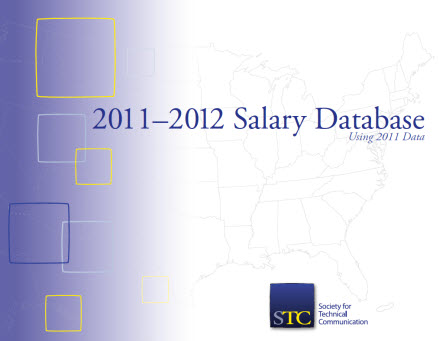 Here are some of the highlights of this comprehensive report.
Compared to other groups of writers that are used in this report for comparison, the number of employed technical writers bounced back real strong from the recession: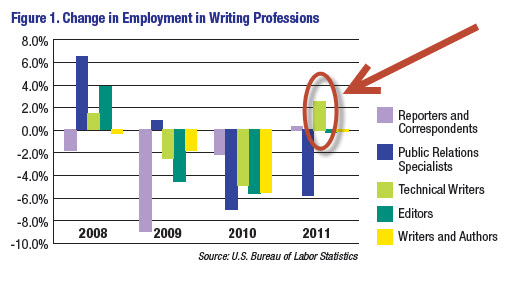 In terms of overall numbers of employment, ours is still a small tribe of well-trained professionals:
"According to the most recent data on occupations and wages from the Bureau of Labor Statistics (BLS), the U.S. economy employed 45,120 technical writers in 2011, 2.6 percent more than in 2010."
The manufacturing sector led the way in the upswing: "The revitalization of the manufacturing sector, which accounts for one in every five technical writer jobs, was a significant factor in the resurgence of technical writer employment in 2011."
The resurgence of the automotive sector in Detroit and other American cities comes to mind: "Not surprisingly, machinery manufacturers and transportation equipment, especially aerospace, reported the most net job gains for technical writers…"
But the hi-tech sector (where this writer is employed) is not doing that bad either: "Computers and electronics equipment manufacturers, which continue to comprise one of the largest employers of technical writers, accounting for one in every 13 technical writers, reported its first net gain in technical writer jobs since 2009…"
Here are the Top 5 States Reporting Greatest Net Gains in Technical Writer Employment:
Colorado (gain of) 15.4%
Connecticut (gain of) 11.8%
North Carolina (gain of) 7.2%
West Virginia (gain of) 6.3%
New York (gain of) 5.9%
To get a copy of this comprehensive report available to new STC members, give Kevin Cuddihy a holler at Kevin.Cuddihy@stc.org.
And if you do become a member in mid-Atlantic, please remember to select my chapter (Washington D.C.- Baltimore) as your free chapter selection that's included in your annual dues.