The following two tabs change content below.
Latest posts by techwriter (see all)
© Ugur Akinci
You don't need to purchase FrameMaker 11 (or Technical Communication Suite 4) to play around with and test it.
Adobe came up with a really nice interface thanks to which you can use FM11 online to discover what it can do for you. You can also download the whole TCS4 if you like but since I was trying out on an old machine with a slow Internet connection, it would have taken me an hour to download the whole TCS4 suite. Instead I went with the "online" option and within 30 seconds I was up and running with FM11.
All you need is an Adobe account (free). Once you log in to Adobe.com with your Adobe account, you have three options:
Test drive TCS4 online (no expiration date!)
Download a full version for 30 days only (if you can wait for an hour and have a fast Internet connection)
Request a Free Trial DVD (the snail-mail alternative — oh soo 20th century!)
TCS4 presents the following test-drive options: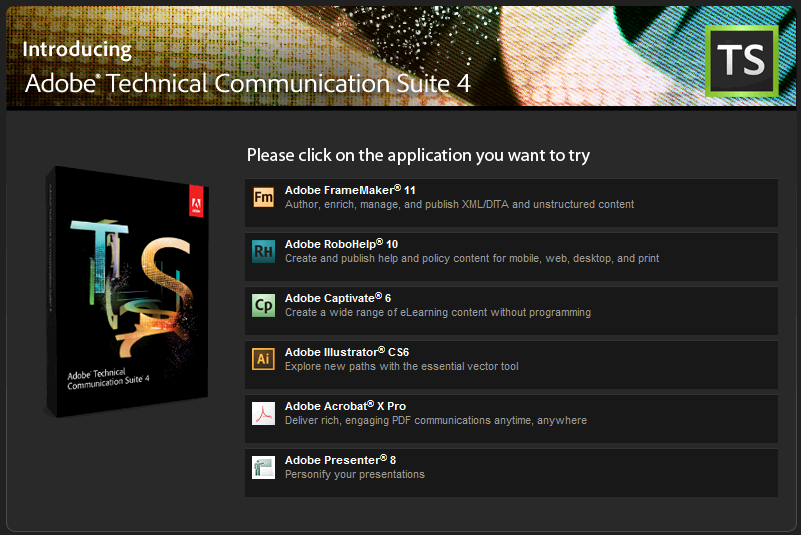 When you click the FM11 link, Adobe GUI displays the full FrameMaker test-driving screen inside your browser, which is your regular editing window. Nice.
The thing I loved about the test-drive environment right away is the ability to open MULTIPLE FM11 virtual instances and compare different documents and different desktop configurations without any actual load and stress on your local machine. Adobe allows you to do such comparisons all online, inside your browser: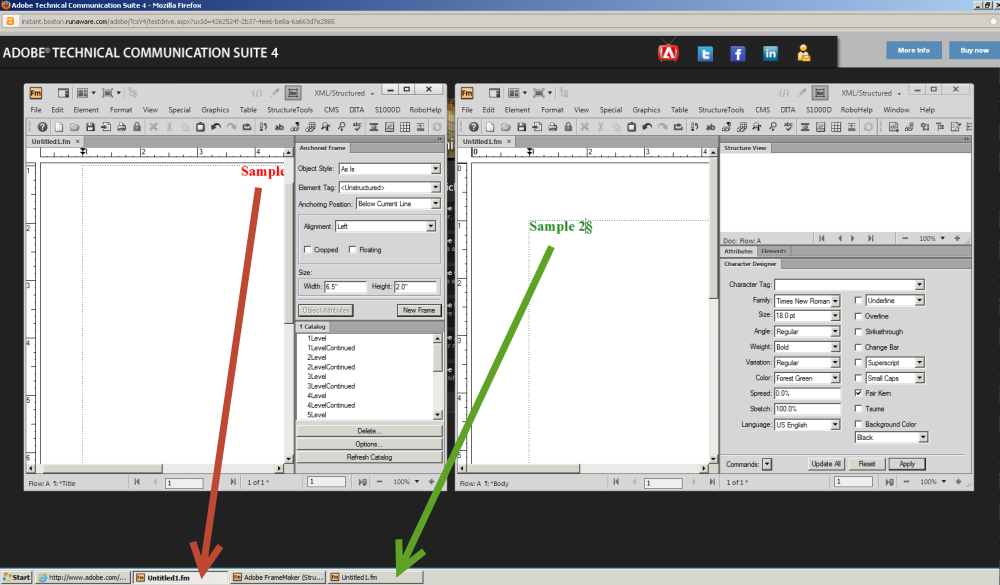 To switch from one instance to another all you need to do is click its icon at the bottom of the screen.
It's clear from get-go that FM11 means business for single-sourcing and "multi-screen HTML5 publishing" for which it upgraded its XML muscle. That all becomes apparent when you use FM11 in "structured view." We will cover the new robust XML features in the days ahead.
However, even if you are using FM11 in the traditional "unstructured view", it still has a few pleasant improvements some of which are more than just cosmetic. More about that in other related posts.