The following two tabs change content below.
Latest posts by techwriter (see all)
© Ugur Akinci
I don't want to flatter myself but I guess either Adobe was listening to me or there have been enough users who questioned the inclusion of Photoshop in the Technical Communication Suite (TCS): with the TCS4 package, Photoshop is out and Illustrator is in, hurray!
Here is what comes with TCS4:
FrameMaker 11
RoboHelp 10
Captivate 6
Presenter 8
Illustrator CS6
If the former Adobe Senior Product Evangelist R.J. Jacquez is reading this, I'd like to offer a big "Thank you!" to him because I forgot the number of times I've written to him and similar others on this issue. I'd like to think that he had something to do with this change of heart on the part of Adobe product managers.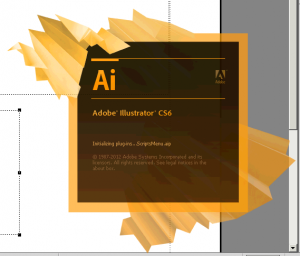 (Adobe Illustrator CS6 launching after selecting File > Launch Illustrator from inside FrameMaker 11. Nice integration!)
I felt that TCS3 shortchanged the users by including Photoshop not because Photoshop is a bad product. On the contrary, it's ultimate image editing industry standard.
However, in my experience, I rarely met a tech writer who needed that kind of powerful raster editor for technical documentation.
On the other hand, Illustrator is today used much more widely to create all kinds of technical drawings and vector illustrations. Especially after the inclusion of the perspective tool, Illustrator really became indispensable for drawing any kind of 3-D projection and simpler 2-D illustrations.
I thought that with Photoshop we were paying dearly for a set of tools that was not delivering exactly what we needed for our daily work as technical writers.
I started to think that perhaps the TCS design team mostly consisted of engineers and they did not consult any technical writers when selecting Photoshop as an image tool for TCS.
Now that Illustrator is offered with TCS4, I am revising that impression and congratulating Adobe for listening to her customer base and coming up with what I wanted for a long time.