The following two tabs change content below.
Latest posts by techwriter (see all)
© Ugur Akinci
I love information intelligently packaged and displayed both dynamically and interactively.
If the information is changing along the time axis, then it should be dynamically updated — assuming it's current and not historic information.
It also should response to user input and give the user a sense of control. Thus, it should also be interactive.
Here is a great example by FlightAware, a site that posts flight information in real-time: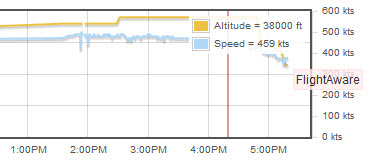 By clicking and dragging the RED line, you can learn at any time the altitude and speed of a flight in progress, with the full speed and altitude history also displayed in orange and blue graph lines.
For example, the above screenshot shows an airplane flying at 38000 ft with a speed of 459 knots at approximately 4:15 pm. I absolutely positively love it! Well done, http://flightaware.com/!