The following two tabs change content below.
Latest posts by techwriter (see all)
© Ugur Akinci
If you have not yet used Acrobat.com for your technical document (PDF) reviews you probably don;t know what you're missing.
The traditional (and almost always chaotic) process goes something like this:
You send your document to each reviewer individually.
Reviewers respond to you individually.
Then you try to sift out and incorporate the feedback into the original document while making sure that there are no repetitive and overlapping comments.
With the Acrobat.com process:
You post the document to your work-space at the Acrobat.com server.
You send a link to your reviewers, inviting them to visit the document and add their comments. This way every reviewer knows exactly what all the other reviewers are commenting about. That kind of transparency reduces redundancy of submitting same or different comments about the same items.
At the end you have a document marked up efficiently by a team of reviewers who know what each other has done.
To work with Acrobat.com:
1) Save your document as PDF.
2) Create a free Adobe.com account:
https://www.adobe.com/account/sign-in.adobedotcom.html 
3) Log on to Acrobat.com:
https://www.acrobat.com/welcome/en/home.html
4) Upload the PDF File: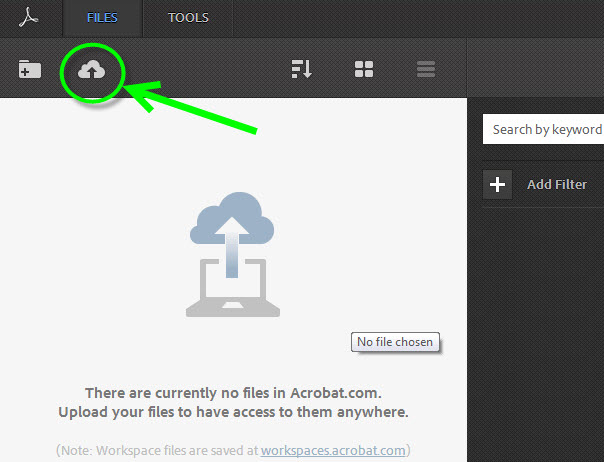 5) Send it to your reviewers for commenting directly on the PDF itself.
NOTE: You can do this by emailing the PDF to reviewers as well if for some reason they do have access to Acrobat.com site. Your reviewers do not need have Acrobat Professional (Writer) to comment on the PDF. All they need is Adobe Reader 9 or newer (at this writing).
6) OPTIONAL METHOD: Open the PDF file in Acrobat Professional (Writer).
7) From the menu bar, select Comment > Send for Shared Review to display the Send for Shared Review screen: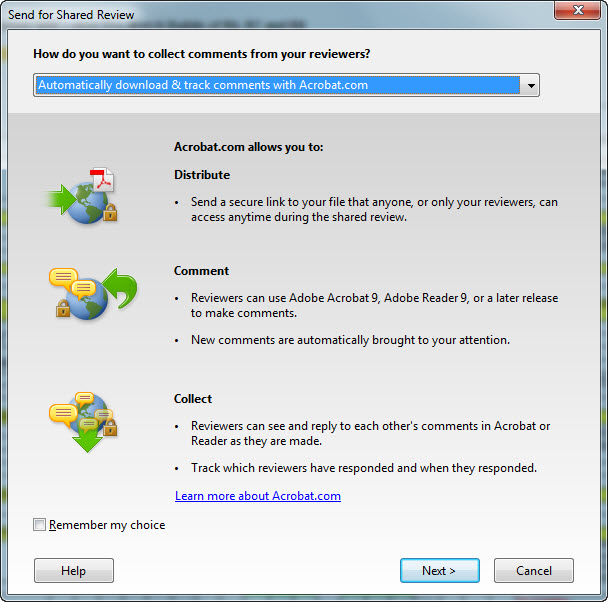 8) Click Next to display the Send for Shared Review screen to log on to the Acrobat server with your Adobe User ID and Password: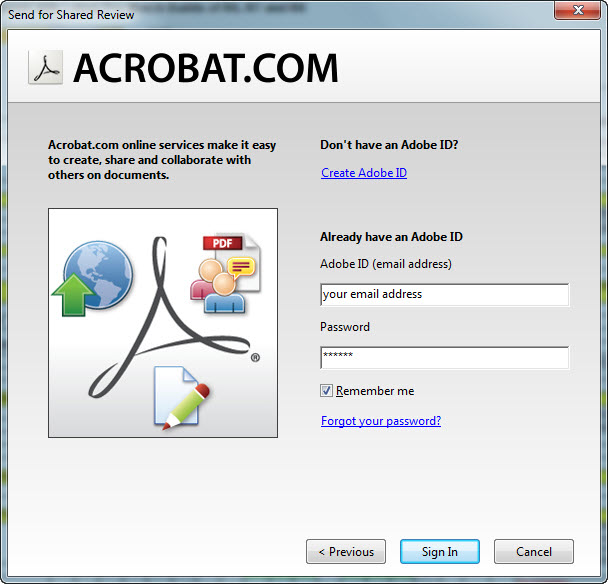 9) You enter the email address of the reviewers (and those that get CC copies). The name of the document is entered automatically into both the SUBJECT line and the pre-set MESSAGE. Click Send and you're done! Now all you need to do is wait for the reviews drop in.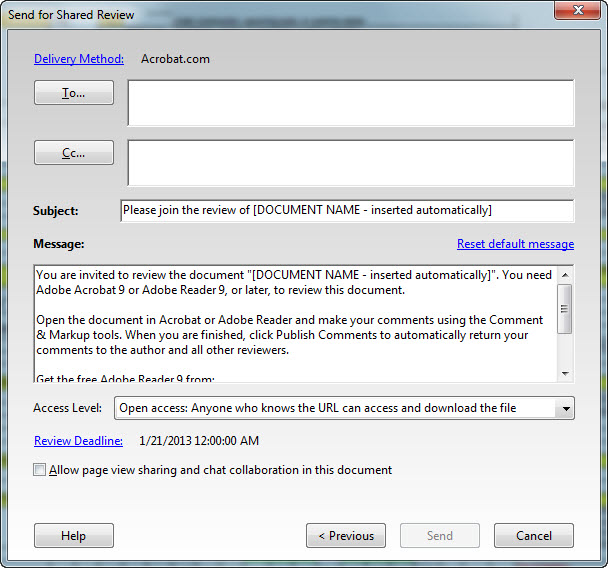 Your reviewers will receive the following email:
"You are invited to review the document "[DOCUMENT NAME inserted automatically]". You need Adobe Acrobat 9 or Adobe Reader 9, or later, to review this document.
Open the document in Acrobat or Adobe Reader and make your comments using the Comment & Markup tools. When you are finished, click Publish Comments to automatically return your comments to the author and all other reviewers.
Get the free Adobe Reader 9 from:
<http://www.adobe.com/go/reader>
<A link to the file will be placed here when the message is sent>"