The following two tabs change content below.
Latest posts by techwriter (see all)
© Ugur Akinci
Adding watermark to your PDF documents make sense for two reasons:
To claim and protect your intellectual property rights.
To mark the document's temporary status, project phase, or version.
For example, it would help a reviewer to know that the document you've sent for review is only the "First Draft" and not the "Final Copy," or the other way around. With Adobe Acrobat Pro, it's so easy to add such a watermark either to the whole document or only the selected pages of it. You can actually add different watermark to the different pages of the same document.
Follow these steps:
1) Open your PDF document in Adobe Acrobat Pro. NOTE: You cannot add watermark with Adobe Reader alone.
2) Select Document > Watermark > Add from the main menu to display the Add Watermark screen: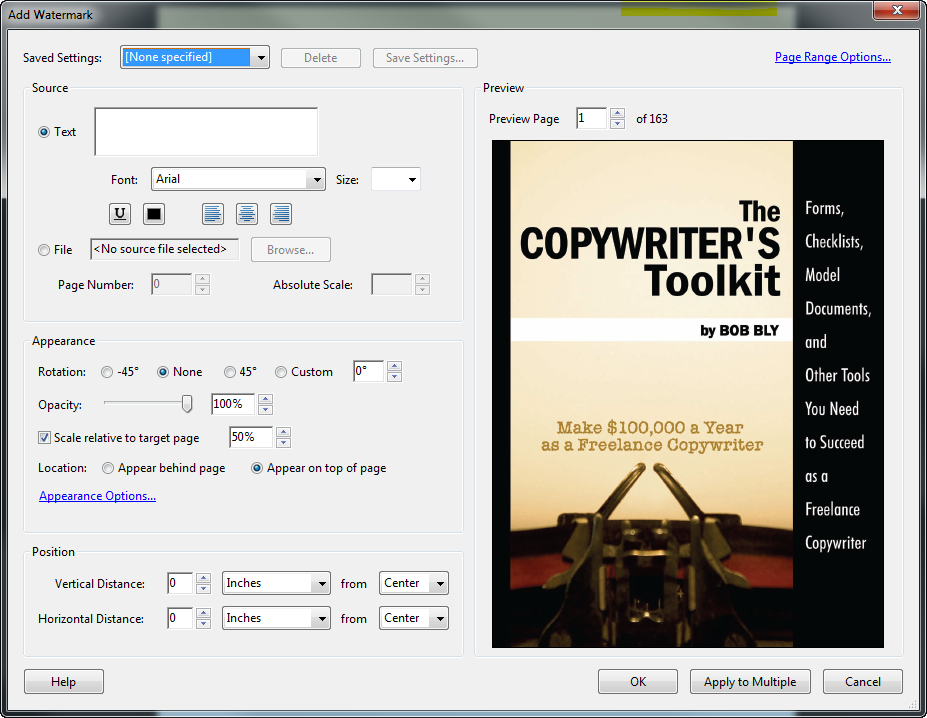 3) Enter the watermark text you like, like "First Draft" or "Copyright Sheila Jones 2013 | All Rights Reserved".
4) Configure the angle of the text or its transparency by using the Rotation option buttons and the Opacity slide.
5) Set the watermark's position by using the Position fields at the bottom. Set its color, justification and font size by using the respective controls.
6) If you'd like to use an image as the watermark, select the File option button. Click Browse to browse and find the image on your computer. If the image is on a specific page of a multi-page file, specify the page in the Page Number field. Set its scale in the Absolute Scale field.
7) If you like the watermark to appear only on a specific page, find that page in the open document by clicking the Preview Page combo list. If you like the watermark to appear on all pages of the document, then click the Apply to Multiple button at the bottom.
8) If you like the watermark to apply only to a range of pages, then click the Page Range Options to display the Page Range Options dialog box: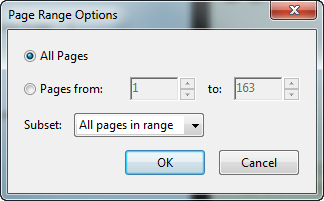 Make your selections and click OK. Back in the main screen, click OK again to apply the watermark to your document.
Here is the same document after applying the watermark "Copyright Bob Bly" to every page (as seen in the preview window):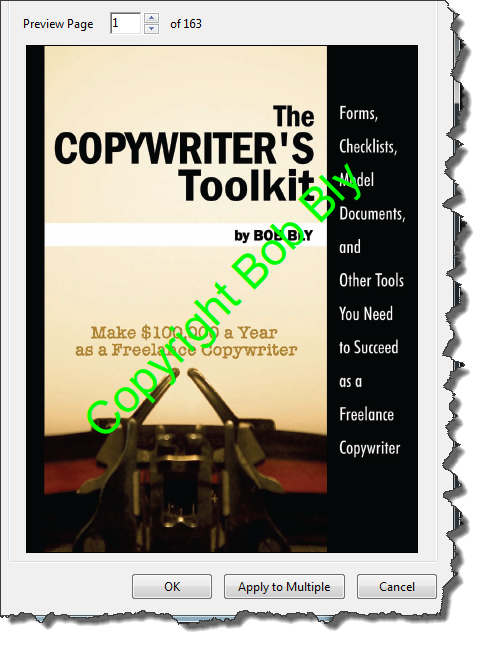 NOTE: You can save these specific watermark settings by clicking Save Settings button. The next time around, if you;d like another watermark that looks  just like this one, you can just select that setting from the Saved Settings drop-down list.