The following two tabs change content below.
Latest posts by techwriter (see all)
© Ugur Akinci
Every computer and device on the Internet has an IP (Internet Protocol) machine address consisting of four groups of numbers separated by a dot/period. This is very much like a phone number; a number that identifies a specific machine.
General format is: zzz.yyy.xxx.www where each letter represents a number between 0 and 9.
Note: Some IP addresses have less than 3 numbers per grouping like "z.yyy.xx.www", etc.
Knowing your IP address is important since some servers will give access to certain materials (web pages) only if your IP address is among those cleared to have access to such content.
So how would you know what your IP address is?
There are more than one methods but here is an easy one.
Visit the following web site and it'll let you know what your IP address is: http://whatismyipaddress.com/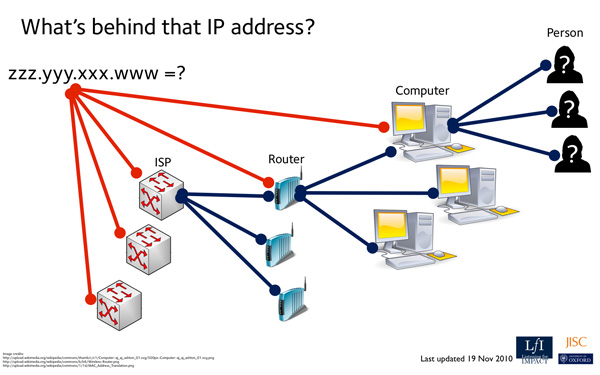 (Image source: http://blogs.oucs.ox.ac.uk/listeningforimpact/2010/11/19/whats-in-an-ip-address/)
Note: Not all IP addresses are static. Some are dynamic, that is, they change from one session to another. To learn more about the differences between these two types of IP addresses please go to:
http://whatismyipaddress.com/dynamic-static