The following two tabs change content below.
Latest posts by techwriter (see all)
© Ugur Akinci
STC, Society for Technical Communication, has released its 2012-2013 Salary Survey using 2012 data and the results are great and but not that surprising: technical writing is one of those writing specialties that bounced back the fastest from the dreaded recession of 2007-2009.
Technical Writers in 2012 climbed back to 99% of their pre-recession employment numbers. That is, there are almost as many technical writers now who are employed compared to the pre-recession numbers.  Our wonderful niche has bounced back nicely (and why should I be surprised in this era of expanding business+economy) with new opportunities for incoming tech writers. There is now as much room among us than before.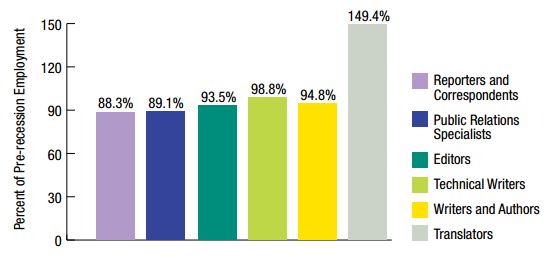 The same "percent of pre-recession employment" for other writers are as follows: 88.3% for reporters and correspondents (which I was one before 1998); 89.1% for public relations specialists; 93.5% for editors;  94.8% for writers and authors (which refers to novelists and other creative writers I assume).
One eye-popping bounce-back category is translators: 149.4%. Again, I'm not going to say that I am surprised. Why? Because I'm personally involved in "localization projects" at my office couple years in a row now. So I know how important it is for project managers to translate not only our documents but also related web sites and software GUI to five, eight, or ten languages (depending on the project).
Those readers who are following this blog will remember my frequent recommendation to always add a second and related skill to their writing+editing skills. Translation is one such skill. Graphic design is another.
Click here if you'd like to become a member of STC. When you do that, you may also consider to join my wonderful award-winning local chapter, STC Washington DC – Baltimore Chapter, which is BTW the largest chapter in the whole country yeay!