The following two tabs change content below.
Latest posts by techwriter (see all)
© Ugur Akinci
NEWS ITEM: MS Word's buggy "Master Document" feature is deprecated in MS Office 2013 and will likely go through a slow disappearing act in the years to come, if it's not redone to satisfaction of Word's hundreds of millions of users.
Even though Word's Master Document feature promised a lot, in practice it did not deliver stellar results. The master documents got corrupted and crashed more often than "occasionally", shall we say…
No worries. The free MS Office-competitor LibreOffice offers a similar MASTER DOCUMENT feature that works pretty well, even though I have not yet tested it for long documents with complicated content. But here is an introduction for a simple Master Document.
First download LibreOffice from http://www.libreoffice.org/
Then fire up the Writer, the equivalent of MC Word.
Select File > New > Master Document from the menu to display the Navigator: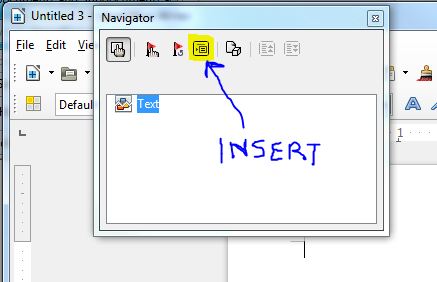 Click Insert, browse to the location where you have saved your subdocuments. Select them and click Open to insert their links into the Navigator. For this example, I've created and saved three MS Word documents in .DOC format, Chapter 1, Chapter 2, and Chapter 3: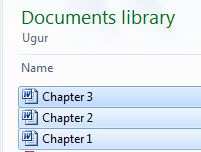 The three subdocuments file names appear as links inside the Navigator window while the content of the subdocuments appear inside in the Master Document itself.
Since Chapter 3 was selected and imported the last, it appears as the first document in the Navigator and its content is displayed first inside the Master Document: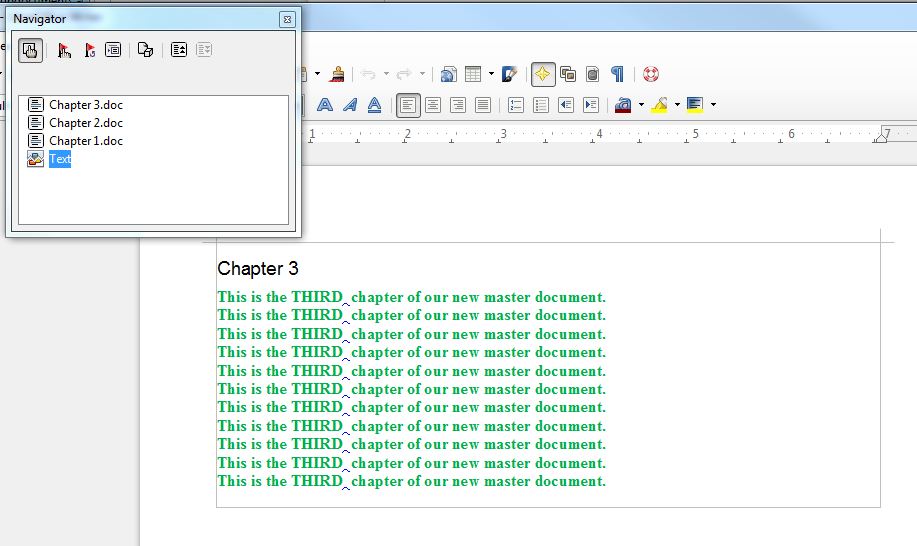 Click and drag your subdocuments, or use the Move Up and Move Down buttons of the Navigator to line up your subdocuments (chapters) properly: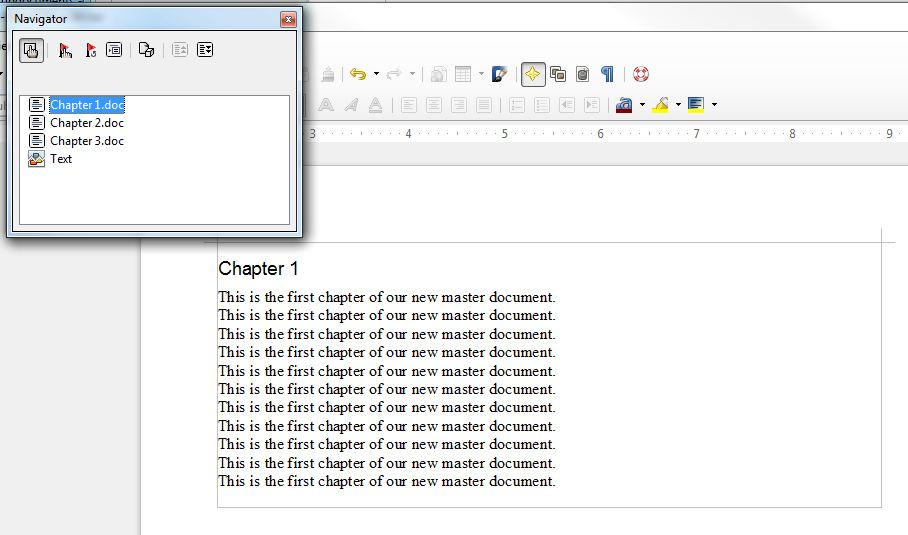 Then File > Save your master document with .ODM extension. NOTE: "Normal" non-master documents (like a subdocument) have .ODT file extension in LibreOffice.
 To edit a subdocument, double-click it inside the Navigator and it'll open as a separate document in Writer. Let's select a background image from Writer's extensive library of built-in graphic objects, and drag it to the beginning of the chapter: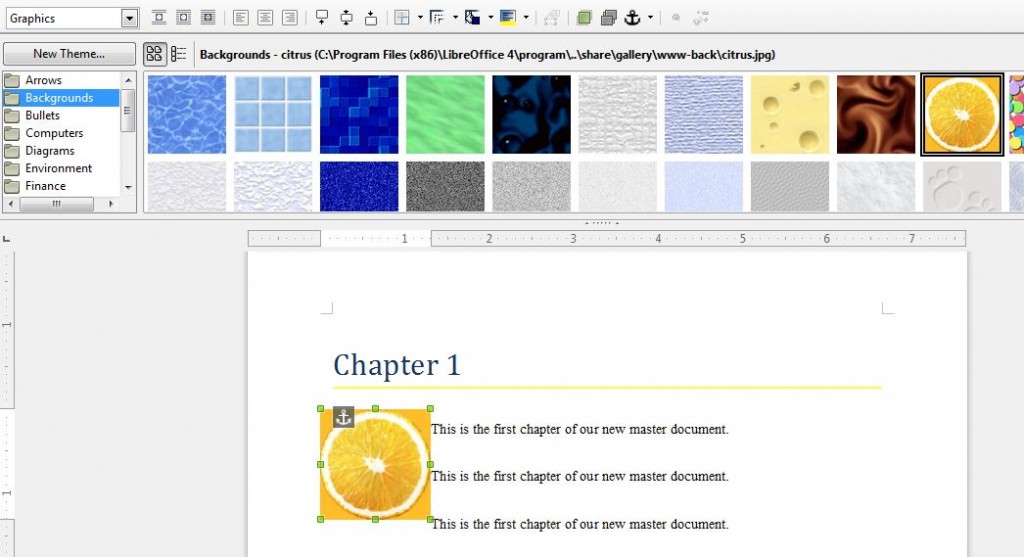 Save the individual subdocument (Chapter 1) and return to the Master Document's Navigator.
Select Chapter 1 and select Update > All from the Navigator menu. The Writer will ask if you would like to go ahead and update your Master Document with all the changes we've made to its subdocument: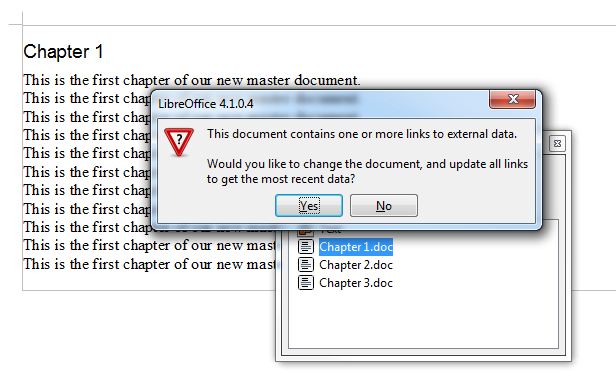 Click Yes and your Master Document will be updated instantly: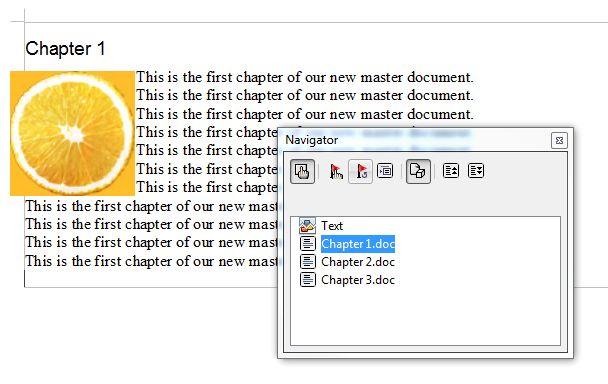 To output your Master Document as a PDF file, click the PDF button on Writer's toolbar: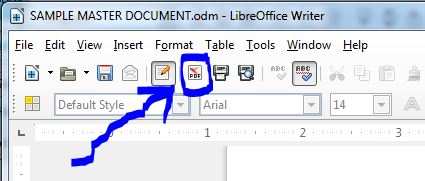 The Writer responds by generating a beautiful PDF file out of your Master Document: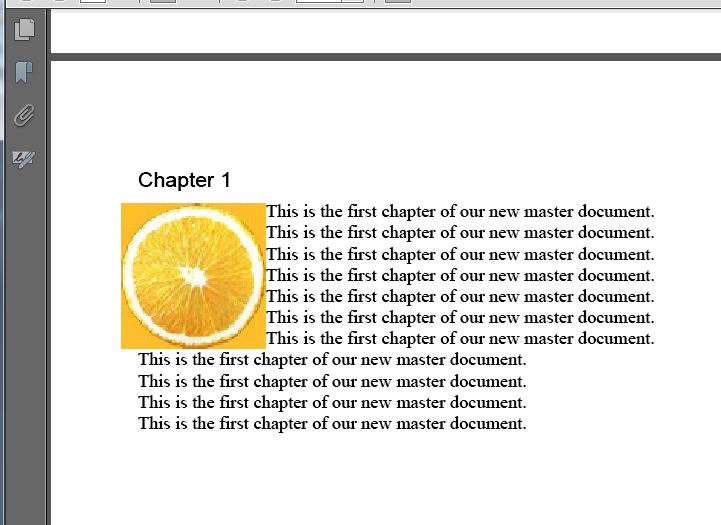 A great application that costs ZERO. What else can we want?