The following two tabs change content below.
Latest posts by techwriter (see all)
Grab yours today:
Technical communicator and veteran trainer Sharon Burton is giving away her Amazon Kindle ebook until Sept 23, 2013:
Consumer Feelings about Product Instructions, 2012-2013
Why is she doing it? Let's listen to Sharon:
"I know (and you probably do, too) that people depend on the product instructions to use the products they purchase. I've spent my career improving products by making sure the instructions are the best they can be. I'm passionate about this topic because I think humans are marvelous. If we provide quality, helpful information to humans, I think they will change the world. And I can't wait to see what happens. But, we also work in a business environment where we have to justify the value we add. For the last 2 years, I've been trying to find out how important product instructions are.
Download the free eBook until Sept 23. Use the data to help make the case that product instructions are important to the customer experience. Use it to help make better products. If it makes an impact for you and your company, it would be great if you could let me know. Perhaps leave comments on Amazon so other people can know what difference this research is making for you. It would make my day to know this has helped you."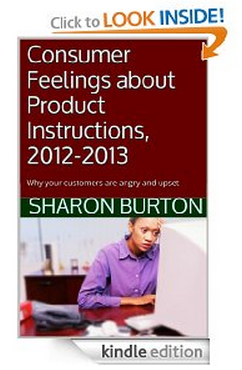 Thank you Sharon for the excellent offer and the sentiment behind it. We appreciate your free gift. You rock!