The following two tabs change content below.
Latest posts by techwriter (see all)
© Ugur Akinci
I heard about Dr.Explain only recently. It's a great layout and text editor for creating all kinds of technical manuals and help files. Especially for dedicated MS Word users, it offers a wealth of options, including the ability to capture automatically-annotated screenshots that even RoboHelp does not offer.
Most software developers sooner or later have to create user manuals for their products.
Quite a few of them don't use any help authoring tools but simply generate separate HTML files. Then they compile these files using Microsoft HTML Help Workshop into one CHM file, or just upload them to a website. This is easier said than done, and it takes a lot of time. Maybe that's why most software developers hate creating user manuals!
However, there are special software tools that help you quickly and easily create help files, online manuals, or printed user documentation. Some of these tools are complicated and rather expensive; before starting to use them, you have to spend time and money on specialized courses. Cheap or free tools are easier to use but are less functional and so less useful.
Dr.Explain (www.drexplain.com) is different. This versatile tool is unique in its ability to document a standalone or web application's interface in semi-automatic mode. Dr.Explain has all features necessary for creating user documentation, and it is affordable even for a one-man business. Dr.Explain's interface and documentation is localized in major European languages.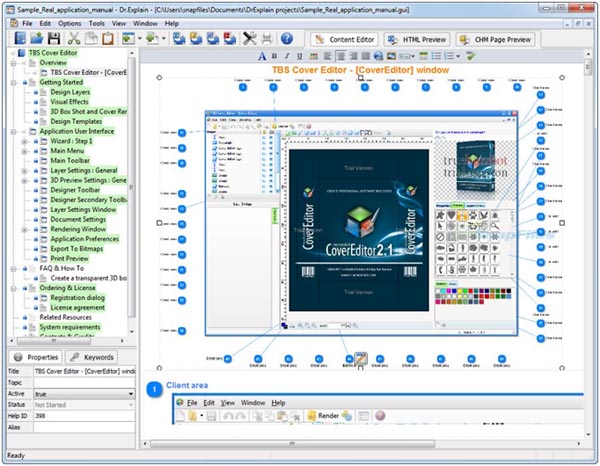 Because Dr.Explain's interface is rather simple and even minimalistic, you can start using it almost immediately. A video review of its key features is available on the application's website.
If there is one feature that sets Dr.Explain apart from its rivals it's the ability to capture other applications' screens and automatically create notes about their user interface. Dr.Explain can analyze an application's window or a web page, find all significant items (buttons, text input fields, sliders, or controls), insert screenshots into the documentation, and automatically place callouts for all interface elements detected. You have to see it to believe it 🙂 The first time you see how it works, it's really amazing.
Dr.Explain also generates a callout table with interface element descriptions. You only need to add more detailed descriptions and, if necessary, correct the position or style of the automatically added callouts. This way, you can create help systems much more quickly, especially for applications with a feature-rich user interface, because you don't have to manually take screenshots, draw callouts, and insert pictures into the documentation. The whole process is automated and done within one software tool.
Dr.Explain lets you use one project to create user documentation in different formats: CHM — for applications' help files, HTML — for the Web, and RTF or PDF — for printed user manuals.
Dr.Explain is pretty good when it comes to exporting PDFs as well. The software supports very complex page layouts and mutual arrangements of such objects as compound or nested tables, images, links, floating blocks, etc. It lets your create an impressive cover page and a multi-level table of contents formatted using various text styles. It also fully supports Unicode, so you can, for example, use Latin, Cyrillic, Chinese, and Arabic characters within one document. This gives you the freedom to create user documentation for your products in any language.
Dr.Explain also lets you quickly create a feature-rich online help — with search, a dynamic index, keywords, and navigation. You can easily tune the online help's appearance to fit your corporate style and your product website's design. To do that, you don't need to be a programmer.
Dr.Explain lets you export documentation into any supportable format in a couple of clicks. Dr.Explain's developers paid special attention to its simplicity of use.
Updating  any existing documents when releasing a new version of your software product is easy well.  Dr.Explain will simply replace the old screenshots of your product by new ones, while keeping all existing callouts, notes, and descriptions. You will only need to add descriptions for the newly added elements and functions. This capability saves time when creating user documentation for the new versions of your software products.
Dr.Explain's built-in and rather easy-to-use editor lets you insert almost any objects into your documentation, including tables, images, lists, special objects, scripts, variables, videos, and more.
If you have outdated documents in any supportable format, you can easily import them to Dr.Explain, so that you can use them as a basis for creating new documentation.
You can download Dr.Explain from www.drexplain.com and use it in the free mode as long as you want to. The only limitation of using Dr.Explain in the free mode is that it will watermark the final images in any documentation created.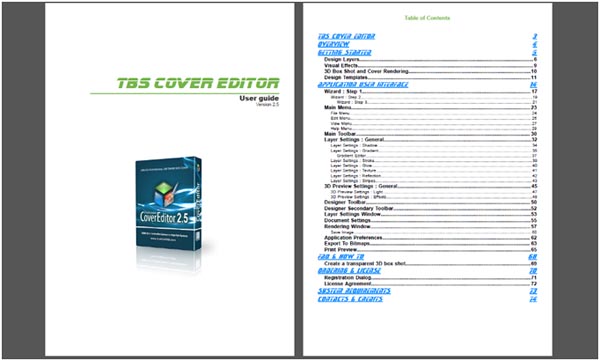 The only shortcoming of this otherwise powerful product is its inability to use FrameMaker documents as source files. Thus if you use FrameMaker to generate your documentation, this otherwise wonderful package will not live up to its full potential unless you decide to use it exclusively with your Word and HTML source files.
In conclusion, if you need to quickly create a user manual or help file consisting of more than ten pages, Dr.Explain is just what you need. This help authoring tool will save your money, time, and peace of mind. Recommended.