The following two tabs change content below.
Latest posts by techwriter (see all)
© Ugur Akinci
There may be times when you might want to hide the images in a  large FrameMaker document by turning them off.
For example, imagine you have a 1,000 page document with 500 complicated images. Opening and closing such a file may take time. You might be snagged if any of the images are corrupted or moved around from one directory to another, etc. There may be other scenarios in which you might ask yourself "is there a way to turn off all these pesky images?" since all you want to do is update the text or edit a table, and do it on a   regular basis?
In such a situations you can easily turn off the images by selecting the following from the main menu:
Select View > Options to display the View Options dialog box: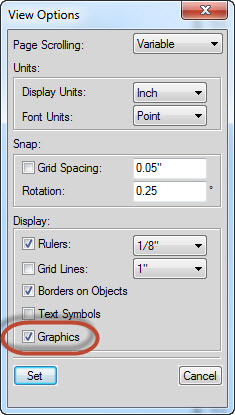 Unselect the Graphics check-box and click the Set button.
Not only your images will disappear immediately but if you save the document this way, they also will not show up when you re-open the file, saving you time and effort.
Any time you'd like to view your images, just go to the same dialog box as above and re-check the Graphics check-box and click Set.
BE CAREFUL: If you generate a PDF while the Graphics option is not checked, your images will nor appear when you print the PDF.