The following two tabs change content below.
Latest posts by techwriter (see all)
© Ugur Akinci
To write a perfect resume, you need to remember one very important fact: you are not writing it to find a job.
Let's repeat: the main function of an excellent resume is NOT to get a job offer.
It's main function is to get you that JOB INTERVIEW.
A resume that cannot get you an interview appointment is a bad one.
---
How to Write a Perfect Resume – 3 Golden Rules
RULE 1: Custom Design for a Specific Offer.
CUSTOM DESIGN each resume for a SPECIFIC OFFER.
Send the same generic document to every recruiter or HR manager in a shotgun approach, and you'll never hear from anybody, ever.
RULE 2: Make it Easy to Scan.
Make sure the layout of your resume is EASY TO SCAN, from top to bottom.
On the average, the person reading it has 15 seconds to decide whether you are an interesting candidate or not. If they can scan it easily, you have a better chance of avoiding the slush pile.
Here is an EASY TO SCAN RESUME sample: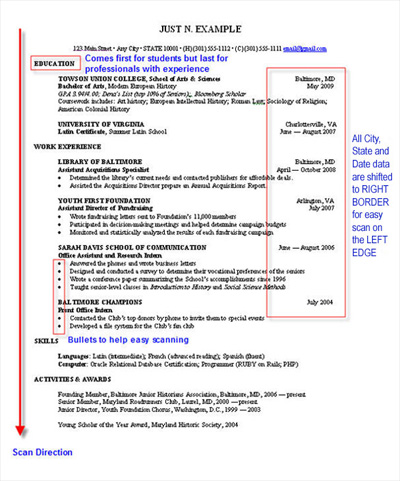 RULE 3: Spell Out Your Achievements.
Include as many facts as possible without neglecting any of your job-specific ACHIEVEMENTS.
QUALIFICATION (schools, certification, etc.) are NOT as important as ACHIEVEMENTS.
Qualification is a POTENTIAL for high performance. An achievement is an actual track record of high performance. Give them PROOF of high performance by listing all your RELEVANT achievements, but nothing more.
Don't break these rules.
Here are the main components of a resume:
1) SIGNATURE BLOCK: Name, address, contact info.
For example:
Just N. Example
123 Main Avenue, New York, NY 10001
(202) 555-1212, myemail@mail.com, www.mywebsite.com
(Exact formatting of this and all the other resume components will depend on the template you are using.)
---
2) OBJECTIVE: Specify clearly why you are sending this document. Mention the specific job offer to which you are responding.
For example:
Finding a salaried Second Unit Director position with an independent film production company in New York City.
---
3) RELATED EXPERIENCE: This should be replaced with educational qualifications if you are a new college graduate.
i) Make sure your that the description of your ACHIEVEMENTS always start with an ACTION VERB.
ii) Left-justify the position name and place of work but right-justify the dates for easy scanning.
iii) List your most recent achievement first and go back in time for about 10 or 15 years. Don't list 30 or 40 years of achievement unless your earlier record is highly pertinent. For example, if 40 years ago you were the Vice President of the United States, then you should of course list that (but then again, if you were the V.P. of USA you probably would not need to write your own resume).
For example:
 Director, Second Unit — June 2007 – Current
ACME Productions, New York, NY
Managed a film crew of 18 in 6 different mid-level indy productions with a total budget of $86 million.
Directed, shot and delivered 18.3 hours of celluloid and digital film, 13% under budget and on time.
---
4) EDUCATIONAL attainment: List only those that are either substantial and/or pertinent. For example, don't list the Japanese Tea Ceremony Certificate you've acquired from your local community college when applying for a job as a film director. But do list your Ph.D. degree even if it was in Anthropology, or if it's from Harvard University.
However, if you are applying as the Manager of a Tea House in Tokyo, then make sure you do list your Tea Ceremony Certificate from East Hartford Community College. RELEVANCE should be the criteria.
For example:
Bachelor of Arts in Film Directing — June 1996
New York University, New York, NY
Film Editing Certificate — August 1993
Sundance Institute, Santa Fe, NM
---
5) OTHER: List any other RELEVANT features of your background that would help you get that job interview.
If, for example, you have any awards RELEVANT to the position, list them in your resume. If the award has nothing to do with the position you are applying for, then don't mention it.
For example:
(A good reference because it's relevant)
Golden Lens Award — April 2006
New Heaven Film Directors Guild
(A bad reference because it's NOT relevant)
Best High School Cricket Coach of the Year — 1975
New Delhi, India