The following two tabs change content below.
Latest posts by techwriter (see all)
© Ugur Akinci
Travel writing is a great way both to travel around the world and make money while doing it. Imagine having fun, staying at the best hotels, spending time on golden beaches and heavenly mountains, and getting paid for it? You can finance such pursuits by specializing in travel writing.
Of course, like in anything else in life, theory is easier than practice. So here are some suggestions to write one great travel article after another, sell'em well, and make your sweet dreams come true.
1) Pre-Sell Your Article
If possible, query he editor of the magazine where you'd like to publish the article and ask if she'd be interested in publishing it once you're done. Editors know what sells and what doesn't and they'll tell you what kind of material they need. That would save you from a lot of unnecessary effort if you happen to think about something that the magazine has published earlier. So, within this context, it pays to STUDY the magazine in advance to prove to the editor that your are an informed writer who has done his homework.
2) Have a Sunny and Inspirational Outlook
More than anything else, travel is about having fun. A travel piece is not an academic dissertation or a political op-ed piece. You are not trying to find solution to the problems of the world. You are trying to motivate others to leave their homes and enjoy the good things that the world has to offer. Thus you need to stress the positive.
This does not mean you need to lie and hide all the inconvenient facts. Actually, it's your duty as a travel writer to point out all the things that your readers should pay attention to for a smooth and trouble-free vacation. For example, if the local hotels refuse rooms to unmarried couples, you need to mention that. But that does not mean you need to criticize the country's sociopolitical culture. That's the job of political and editorial writers.
3) Photos, Photos, Photos
Visuals are very important in travel writing. If you have at least a 4 Megabyte camera and know how to take good pictures, you'll have an easier time to sell your travel article.
Here are 2 GOLDEN PRINCIPLES of taking excellent photos:
a) NEVER take a picture when the sun is up above your head. SUNRISE and SUNDOWN are perfect times to take a picture. Even the most mundane scenes are bathed in a gorgeous light at these hours of the day. As Rembrandt has said: "It's all about the Light."
b) Always include a FOREGROUND to frame your BACKGROUND.
For example, if you are shooting the photo of a hotel, try to include a tree branch hanging over or a flower in front of the frame so that there will be a comparative sense of depth to your photo.
If you are shooting a beach or a mountain, try to include a plant or another attractive object in the foreground. See the public domain photo of the Lion Rock at Piha above, courtesy of Wikipedia.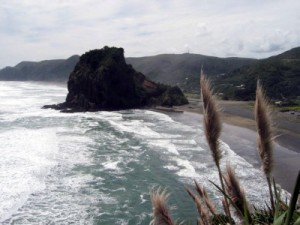 4) Provide Useful, Timely, and Relevant Information
This is the heart of any travel writing, really. Provide good information about where to stay (hotels), where to eat (restaurants), how to reach that spot (transportation).
It is not easy to share the latest information and that's why travel writing goes stale quickly. That's the down side. But the upside is, since travel information changes constantly, that also creates a constant need for new travel articles for the same location. That's why the global demand for travel writing never goes away.
If you read the best travel writing, you'll see that most of the time such to-the-point information is provided in SIDEBARS. You can try the same.
5) Write with Your 5 Senses and Get Personal
Draw pictures with your words, and to do that, rely on your personal impressions. Use metaphors and similes (by comparing two objects/entities via the conjunction "like" or "as").
Don't just say "the city was beautiful" and leave it at that. Listen to your inner voice, watch your inner state, and try to pour the energy churning inside into honest words.
Try something like: "When the spires of the thousand-year castle emerged from the morning mist that cuddled the city, I felt like I was transported to a time when the stone bridge that curved gently towards the main gate echoed with the hoofs of the horses ridden by the knights in sparkling silver armor."
Instead of just saying "hot," try something like "the minute I stepped on the beach barefoot it burned like a sizzling hot pan."
Instead of "cold" try "the weather was so merciless and iron-cold my lips froze up as if they were glued to one another."
6) Keep Your Ears and Eyes Wide Open
Take notes as you go along and write down every interesting local expression or piece of conversation that you hear along the way, even of they are not correct grammatically. Such authentic details bring out your piece alive in colors and shades that cannot be invented from afar while you sit comfortably at your desk.
Travel writing takes a lot of effort, planning, and keen observation but at the end it's probably one of the best ways to have fun while making money.
PHOTO CREDIT: Ester Inbar