The following two tabs change content below.
Latest posts by techwriter (see all)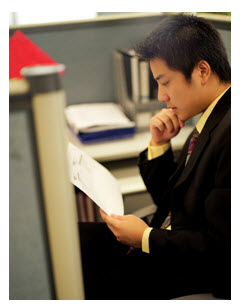 © Ugur Akinci
Sometimes things don't go as planned in life… People come and go, things change, and a career that has once sparkled may just start to sag in the middle and fray over the edges.
So what do you do? Just sulk in your corner and play the blues?
That's certainly one alternative and the easiest one. But not the best or the only alternative for sure.
A good strategy in situations like that is to move sideways… to shift laterally to something that is both related to what you're currently doing but different from it in some way.
Try to preserve your core skills set and apply it to another subject matter, in another field.
That way you'd spare yourself the shock of becoming the proverbial "fish out of water" in a brand new environment. Having your familiar skills at your disposal, you'd hit the ground running on new pavement, towards a new direction.
Take writing for example…
Let's say you are a journalist like I was once upon a time.
Let's assume that you love both to write and to report because you love to do research and follow a lead. You love the thrill of discovery and writing about it.
But let's say your newspaper or radio station is losing money. As a result, you're also losing money and getting into debt. Your need a new car but you have to continue to drive that rust bucket around for God knows how long.
You know you need to get out of journalism business fast. But you have no idea what to do next.
At that point a friend suggests you give bartending a try.
"Why not?" he says, "it's an easy and fun thing to do. You get to meet a lot of interesting people and you also make a hundred dollars a night on tips alone."
You figure you can make three or four thousand dollars a month easy and you are tempted to say "yes." But should you? I think not.
The chances are you are a bookish person, more comfortable in a library than in a sour-smelling smoky noisy night club. There is a great chance that you won't be able to handle the pressure of running a busy bar, making constant small talk to keep the inebriated customers happy, keeping up with different orders correctly, and managing the cash register, all at the same time.
You'd be totally out of your comfort zone.
So why don't you instead try just a DIFFERENT sort of writing, instead of making life hell for yourself?
Who said you need to do journalistic writing for the rest of your life?
How about copy writing? How about writing web sites for the small businesses in your town?
How about offering your research skills to downtown law firms? Writing ad copy for advertisement agencies? Or perhaps trying technical writing since many corporations and organizations always need good writers to write their manuals and guide books?
If you opt for such a  solution I have a feeling you'd be more comfortable in your new position since you'd still be operating within your familiar territory with your old well-developed skills. That would be a much wiser way of getting on with your life than jumping down a new cliff, without a parachute.
If you are sick and tired of driving a truck, you can try driving a passenger bus or an ambulance.
If you feel you are going nowhere as a high school football coach, perhaps you should try selling football supplies and paraphernalia on the Internet, or open a web site giving out coaching advice?
SIDEBAR: Here is the story of Michael Precker, a Dallas Morning News reporter who got sick and tired of covering war stories and he shifted to something else… he became the "Communications Director" of a strip club in Dallas, TX.  I'm not suggesting that you should also go and work for a strip club. But "shifting sideways" by preserving and re-purposing your core skills can open up new career venues for you, as it did for Mr. Precker.
Sometimes moving sideways is the smoothest way to push forward.