The following two tabs change content below.
Latest posts by techwriter (see all)
© 2010 Ugur Akinci
My long-time readers know the importance I give to indexes. Most if not all technical documents over 20 pages better have at least a TOC. And if they are over 50 pages, they'd really need an Index too.  A well thought-out Index is a sign of quality and professionalism in technical writing. If you are a beginner technical writer building up a technical documentation portfolio for yourself, make sure all your user guides and other manuals do have a detailed and intelligently-designed Index at the end. I have addressed the issue of indexing in other posts.
Indexing becomes a bit complicated when you generate a PDF copy of your document. I for example regularly use Adobe FrameMaker for my documents and then generate a PDF copy through Acrobat PDF Print utility. It kind of sounds complicated but it really is not. I simply select File > Save As from the FM menu and then select PDF from the format drop-down menu and FM automatically kicks the document into Adobe Distiller, which generates the PDF copy. If I have an Index in the original FM source file, the PDF copy would have an Index too of course.
But what about those cases when you do not have an Index in your source file, you have already generated your PDF copy and now you'd like to add an Index from inside the PDF?
That's where the PDF Index Generator comes to the rescue. This useful software (sold for only $29.95) is really a handy application that can save your day during those last moment project rushes. It seems to have only one shortcoming that I could detect right away and I'll mention that at the end of this review.
Follow these steps to generate your PDF Index:
Step 1: Launch your PDF Index Generator (A trial copy is available at http://www.pdfindexgenerator.com/download.php)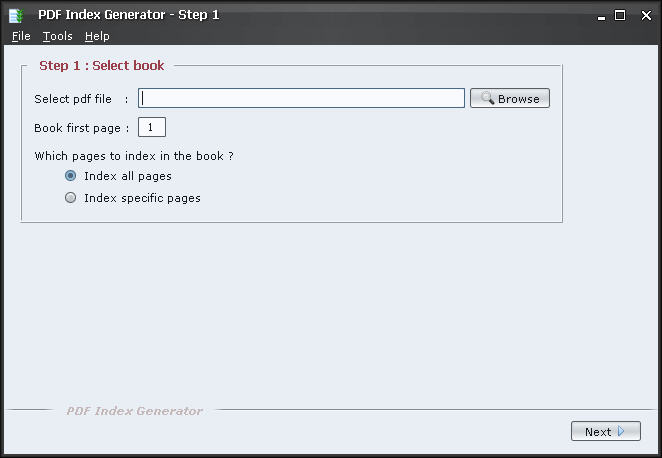 Click the Browse button and select your PDF file.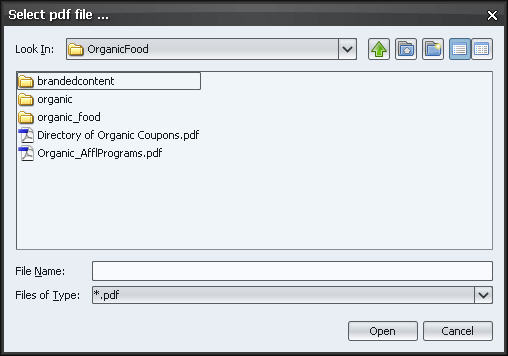 In Step 2, you need to decide whether to index all the words in the document (NOT recommended and why it's even an option I don't understand), or index only specific words. Select the latter radio button and click the Generate Index button.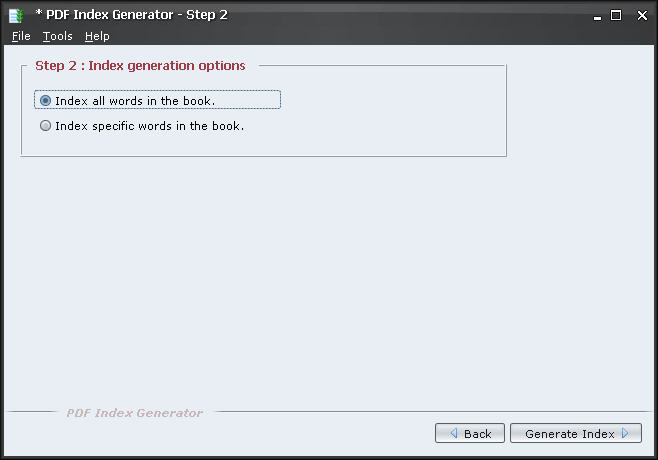 Click the Exclude Words check-box and select all adjectives, adverbs, conjunctions, pronouns, etc, and then click the Right Arrow to select the word categories that should NOT be included in the Index. If you have specific words that you have to have in the Index, then select the Include Words check-box enter them in the appropriate text box and then again click the Right Arrow.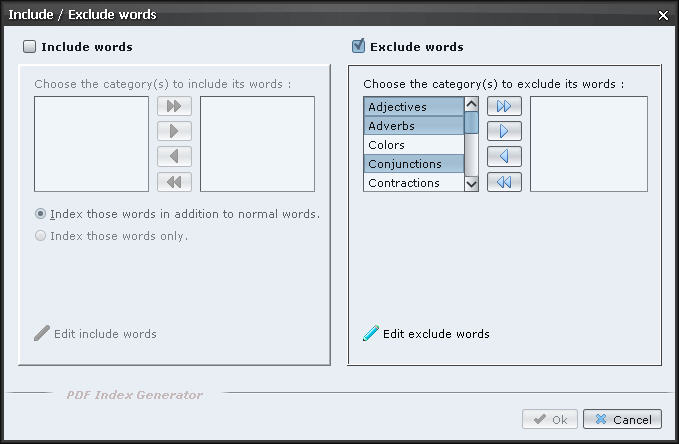 Click OK to return to the previous screen.
Click the Generate Index button to start the process.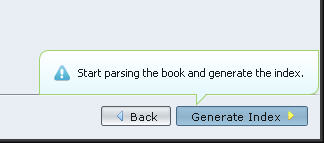 The Progress Bar screen will let you know when the indexing is finished.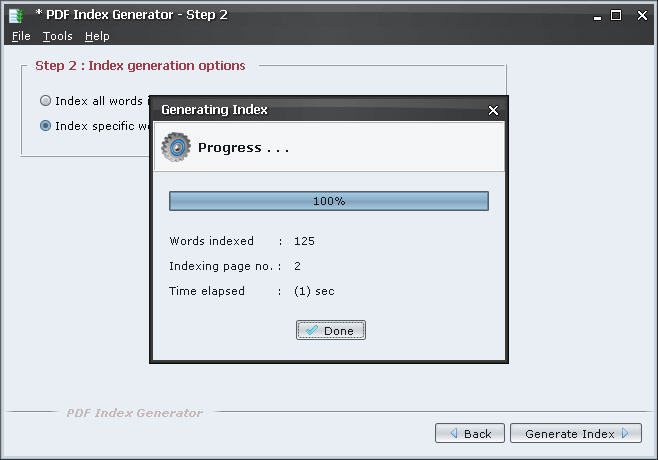 Step 3: Now it's time to clean up your entries since some of them would inevitably be meaningless. You unselect the Show check-box of all generated entries that you don't want in your Index.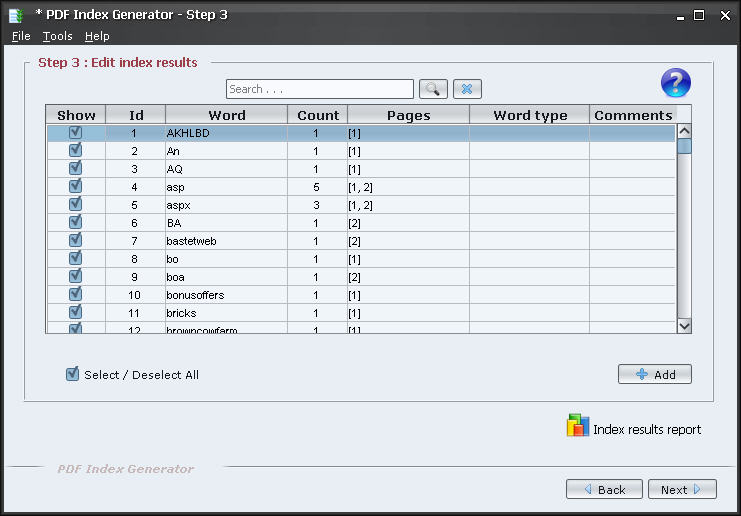 If you'd like to add any new index entries, click the Add button: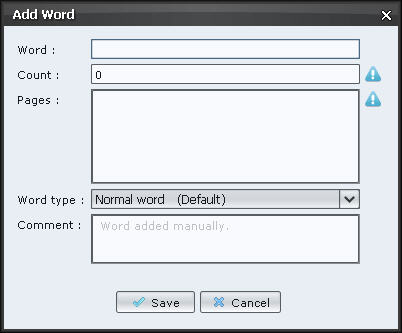 Add your word and fill in all other fields. Click Save. If the word is already in the Index, you get the following error message: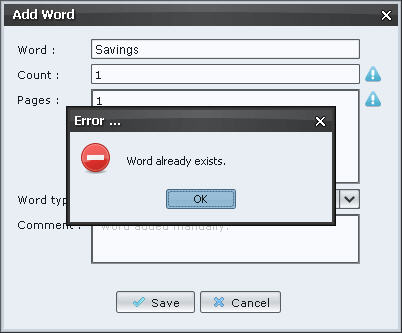 Click OK to display the Step 4 screen: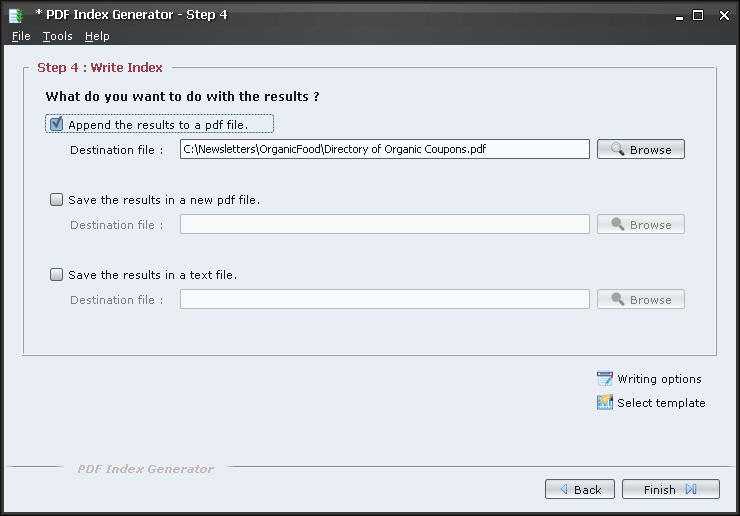 The application offers you 3 saving options: appending it to your PDF, saving as a separate PDF file, and saving it as a text file. I'd select all three. What have you got to lose?
Click the Browse buttons and select a destination address for each file: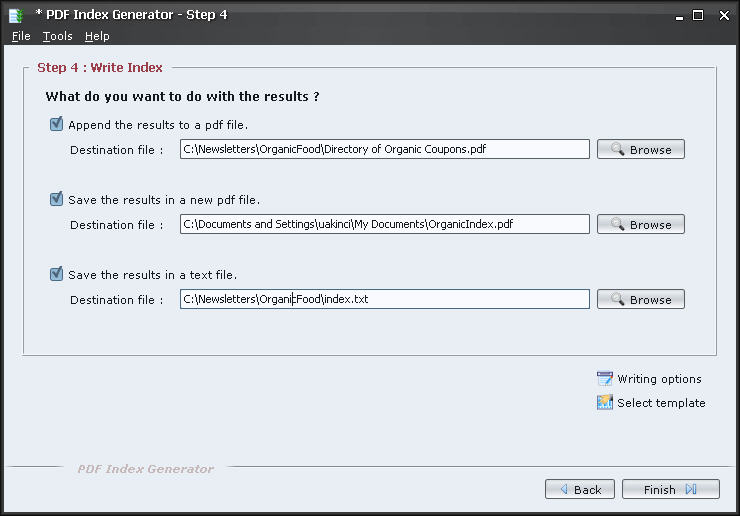 The application will ask you to confirm the appending (if you've selected it as a saving option):

Click Yes. When the indexing is done, it will be confirmed by the following success dialog box:

Click Exit and you're done! Congratulations. You've just created an Index for your PDF document.
Then you will be asked to save the project file itself (extension .PDFIG). Do so promptly: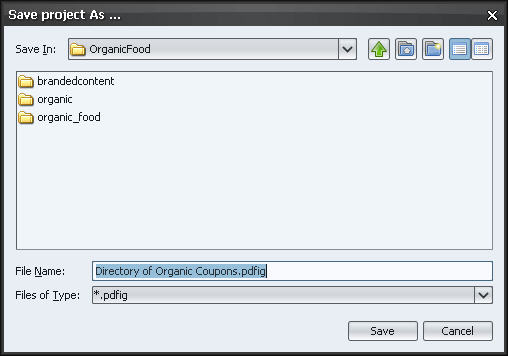 That's it: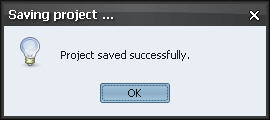 Here comes the only shortcoming of this program that I can think of: the individual index entries are NOT hot-linked to the source items.
For example, I'd love to be able to find entry X in the Index and then click its page number and automatically go to that page. You can do that in a FrameMaker-generated index. If the developers can include this feature as well in a future version, then this would really become a top-notch technical writing tool.
PDF Index Generator has several other sophisticated features that I did not have the space to cover here. For example, the ability to select your own Index style template is a great feature. That way you can make your Index look like the rest of your document.
The product web site has a great VIDEO TUTORIAL and a slide presentation that you should take advantage of.
Overall, a good value for $29.9 if you generate PDFs on a regular basis and have the need to append indexes without going back to your source application.