The following two tabs change content below.
Latest posts by techwriter (see all)
I was listening to my car radio this morning and I heard an Iraq War veteran volunteering because he could not find a job. Volunteering is great community service. I think everyone should try it at least once in their lives. I, for example, used to be a "Meals on Wheels" volunteer and learned a great deal from the experience by helping some folks who truly needed that kind of help. I still volunteer my web design and blog development skills for those in need, as time permits.
If you are trying to earn some money for your family, however, you should obviously do other things besides volunteering. I know times are rough and jobs are scarce out there. That's for sure. And I'm not debating that. But I'd like to remind that if you are a member or ex-member of the Armed Services (of any nation, really) and if you have some minimum writing skills, you can earn a decent living as a technical writer — and continue volunteering in the evenings and over the weekends if you'd like to.
There are four large pools of people that end up in technical writing: 1) English majors, 2) Non-fiction writers from all walks of life (journalists, copy writers, etc.), 3) Engineers, developers and other technical people who make a lateral shift, and 4) Military personnel.
Why military personnel? Let me count the ways…
When you're in the military you deal with LISTS all day long. And if you can write lists, read lists, follow lists, then you already a lot about technical writing.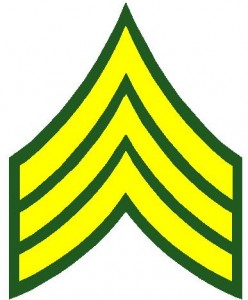 In military you do everything according to DIRECTIONS — you write them, read them, follow them. And in time you get to know good directions from bad ones. Let me ask you this — what's an ORDER but "a technical direction that you can't edit"? Once you start thinking that way you'll realize how ready you are to make the shift to technical writing.
Service men and women are also superbly trained to break down every task into logically arranged PROCEDURAL STEPS. And that's what (most of) technical writing is all about. So, in that sense, you may already be a technical writer and not know it.
Again, military folks are great about ORGANIZING TEAMS. They really know how to set up not only a HIERARCHICAL information system but also HIERARCHICAL work teams. That's what you need in most technical writing projects. You need to become a member of a team and do your job well and on time. You need to get or give reviews on time, according to a certain style guideline. You already know how to do that from your superb military training. So why not use it to become not only a technical writer but actually the manager of a technical writing team (after you earn your stripes in your new field, of course)?
Another asset that soldiers and officers at all levels do have is their affinity with TECHNICAL SYSTEMS. If you can operate a radar, drive a tank, or draw out a military exercise plan, and learn a lot of software and hardware along the way, then you can certainly learn the software and hardware that technical writing requires in a hurry.
Search this site for other posts on advantages of technical writing and sign up with the Free TCC Ezine to get your free Special Report on how much the technical writers make. There are no guarantees in life. After investing time and money to become a tech writer you may still be looking for a job, given the way economy is. But overall I think it is a worthy career alternative that you should definitely give a thought. Ten years from today you may ask yourself why you hadn't tried it before. Good luck!
P.S. If you are still in the service this does not mean that you need to quit the Army. On the contrary, by shifting sideways and applying for a tech writing job within your unit or base you can become a member of this great profession without leaving your current employer.
Resources:
Guide to Effective Military Writing
U.S.Army – Communication Techniques – Effective Writing
Effective Writing – Army Institute of Professional Development