The following two tabs change content below.
Latest posts by techwriter (see all)
© 2011 Ugur Akinci
Are you like me? Do you sometimes confuse a "font" with a "font face" or "typeface"?
Or an "Alphabet" with a "Glyph"? If so, read on for a basic refresher on this frequently misunderstood topic.
Let's start with a TYPEFACE, which is one and the same thing as a FONT FAMILY — a collection of related fonts that share the same stylistic look.
The individual fonts of a type face or font family "look the same" regardless of their size or other characteristics, just like all Helvetica fonts look "like Helvetica."
A FONT, on the other hand, is a specific member of the font family, distinguished not only by font SIZE (usually measured in points) but also in WEIGHT, letter kerning, etc.
For example, "Helvetica 14 points Bold" is not the same font as "Helvetica 12 points Bold" although they both are members of the Helvetica FAMILY, or TYPEFACE.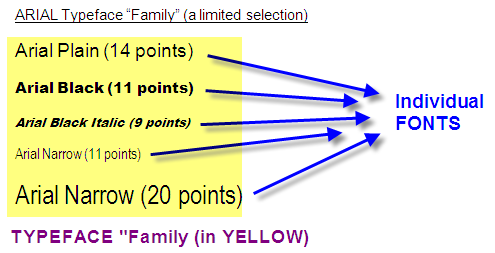 A GLYPH is every single CHARACTER that make up a FONT. It is what we type when we press any key on our keyboard.
So, what's the difference between a GLYPH and an ALPHABET?
An ALPHABET are only those characters that we use traditionally to communicate a message like letters A-Z, the numbers, punctuation marks, etc.
However, there are also glyphs that are NOT a part of an alphabet. To see some of them just have a look in typefaces like Wingdings or Webdings.
Two major distinctions when it comes to typefaces and fonts that you should be aware of are the following:
Serif vs. Non-Serif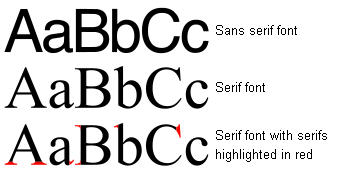 Serif fonts have these spike-like extensions and non-serif fonts don't.
Non-serif fonts make great headers but serif is better for easy reading of long paragraphs.
Proportional vs. Monospace

In a monospace font, every character occupies the same amount ("mono") of space. In a proportional font, it depends on how thin (like "i") or fat (like "o") the character is.
Monospace fonts have a blocky official look to them and they take more space than proportional fonts. The universally popular Courier, for example, is a well-known monospace font.
These are all issues that typographers have argued for energetically for centuries. So please don't think that the last word on these issues have been spent and the issues have been settled for good. Far from it. But I believe the above summary does justice to the overall consensus that exists on at least some basic items.
To read a more detailed account please visit Wikipedia:
http://en.wikipedia.org/wiki/Typeface
http://en.wikipedia.org/wiki/Font
http://en.wikipedia.org/wiki/Glyph
(All images courtesy of Wikipedia)