The following two tabs change content below.
Latest posts by techwriter (see all)
© Ugur Akinci
How many times you took part in a phone conversation like this:
— Hi Bob, this is Ugur. How you doing?

— Great! What are we doing today, determining the best time to meet next week?

— Yeah, what do you think? You available on Friday, like 2 p.m.?

— I don't know. Wednesday's are better for me. Besides we need to talk this first with Vidya.

— (Vidya) Hi guys! I'm online. I can't make it either of those two days. How about Saturday evening?

— Okay but what would James, Sharon, Jagadesh, Ahmad and Jose would say? Are they in?

— Who knows. We have to ask them too.

— Yeah, and after talking with them we need to get back together once again to consolidate the responses to make sure we'll all be able to attend on the chose date and time.

— I know. Perhaps we need to get together more than once too, you know how that goes…

— Ugh, it sounds like our work is cut out for us!

etc.
Sounds familiar?
I have no idea how many thousands of hours are lost in the world every day over uncertainties like this bu7t I'm sure it's a significant amount.
Wouldn't it be nice if there was a free and simple-to-use online tool to survey the members of the group and display the most preferred dates and times for all to see?
Well that tool exists: www.doodle.com
Doodle.com allows you to send out a survey quickly to all members of your group, compile their answers and then display the result in a well-designed table like the one below: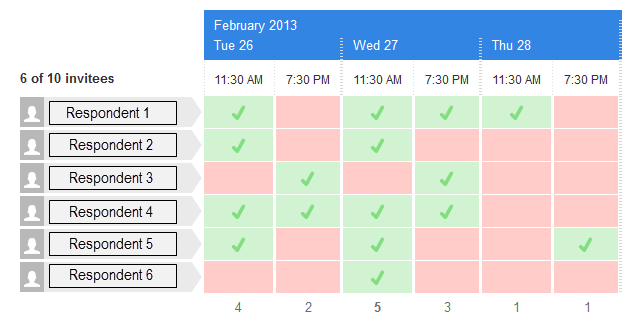 Here in this specific situation you can easily see that the most appropriate meeting day and time for the 5 out of 6 participants is Wednesday 27, 11:30 AM.  The case is settled.
Doodle is also good in recording comments and sharing the comments with all the group members via email, thus keeping them contantly updated about the progress of the survey.
It's a great office and organizational productivity tool that I recommend.