The following two tabs change content below.
Latest posts by techwriter (see all)
© Ugur Akinci
Yours truly presented a workshop this past Thursday (April 18, 2013) in Falls Church, VA about  "How to Publish on Amazon Kindle."
The attendance was great and I was very pleased to share all I've learned about how to write for and publish on Amazon Kindle platform with my fellow technical writers. Those present asked dozens of excellent questions which have already helped me a lot to revise and improve my presentation, should there be another opportunity to offer another workshop.
Kindle publishing is something that I believe intimidates a number of writers for no good reason at all. At the end of my presentation I think there were a lot of converts and believers in the room. Afterwards, I received quite a few kind letters about how the workshop inspired a good number of fellow writers in the audience to get those dusty files out of their directories and publish them on Amazon — the best marketing platform on earth for a writer, visited by at least an estimated 3 million unique visitors a day.
At the end of the workshop, as a bonus, I gave away a review copy of all the Kindle ebooks I've published so far. Wish you were there 🙂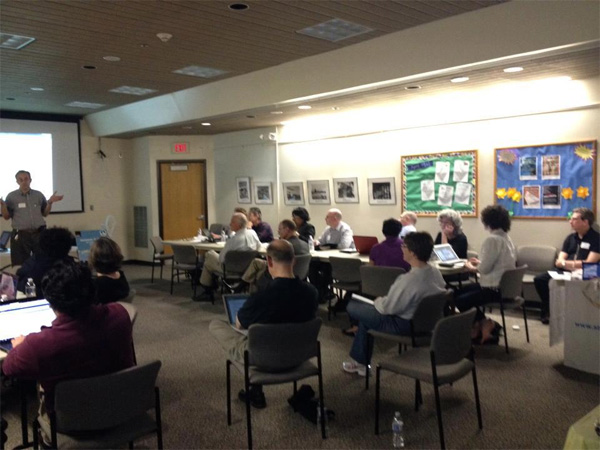 I'd like to take this opportunity to express my sincere thanks not only to those who took the time from their busy schedules to attend the event, but also to two great organizations, for different reasons:
1) STC Washington DC Baltimore Chapter, my own STC chapter where I'm also the Membership Manager and a Director at-Large of the Administrative Council. The chapter put in a lot of time and effort to arrange the place and the event down to the delicious food plate that was available for the audience before the workshop began. Carolyn Klinger (https://www.facebook.com/carolyn.klinger), our immediate past president and a technical communicator with seemingly infinite energies again shined in making sure everything worked the way it's supposed to. Viqui Dill (https://www.facebook.com/viqui.dill), our equally energetic social media manager, an ace tech writer and an accomplished musician, plus Muniza Arifin (http://www.stcwdc.org/bios/arifin_muniza_bio.shtml), our new president, they all contributed a lot in many different ways. I thank them all!
2) Toastmasters BAE Lunchbreak Toasters Club in Herndon, VA led by Hank Woods for becoming my refuge for public speaking, teaching me the basic techniques of public address and allowing me to practice my speaking and leadership skills in a wonderful environment of friendship, tolerance, and nurturing. Many thanks indeed!
Here are some photos from the event kindly provided by Viqui and Carolyn.