The following two tabs change content below.
Latest posts by techwriter (see all)
© Ugur Akinci
MS Word does not have a dedicated "Conditional Text" functionality like Adobe FrameMaker does.
But by using Word's "hidden text" functionality, you can achieve a similar "conditional text" effect.
Imagine you are writing a Thank You letter to your customers for buying two different types of products, with hard-to-remember serial numbers and images:
MAXI JUICER No. 34B736J-2
MINI MIXER No. 87NS-X354
Moreover, let's say you'd like to have the Juicer letter signed by "M. Smith" and the Mixer letter by "J. Louise".
How can you insert "hidden text" so that you would not have to type in the serial number and the manager's name, and insert a new image every time you shift from a Juicer to a Mixer letter?
It"s not very easy to accomplish that. But it's possible.
Here is how:
1) First, enter all the components of the letter into a Composite Master Letter. Here is how a sample letter would look like: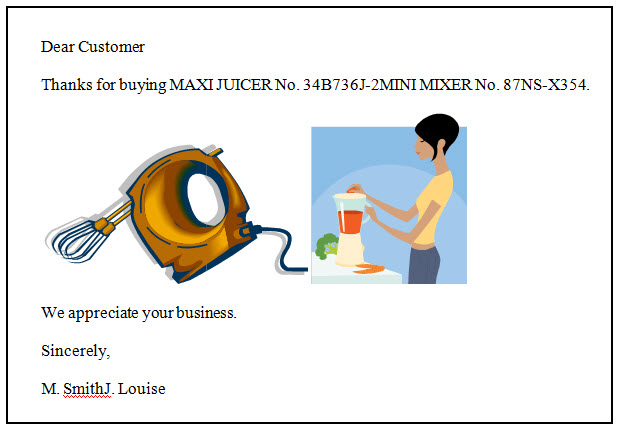 2) Click the Show-Hide button on your ribbon's Home tab to display all the hidden paragraph marks.
3) Then, select all the "conditional text" with your mouse while pressing the Ctrl button on your keyboard: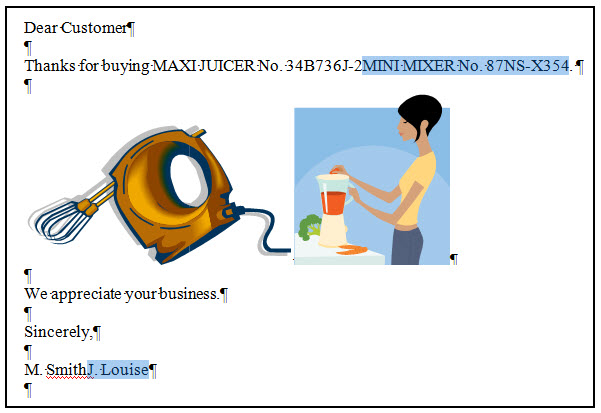 4) Once all the conditional text of your letter are selected, press Ctrl+Shift+H to make these elements "hidden."
5) Select the "conditional image with your mouse and press Ctrl+Shift+H to make the image also "hidden."
Now your letter will display a dotted line (………..) under those elements that are tagged as hidden: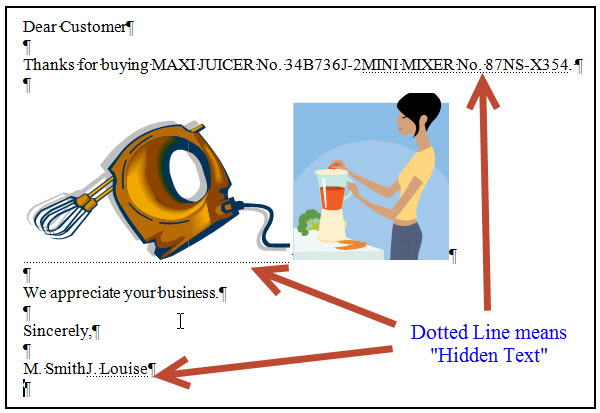 6) Save your letter as is.
To Send the "Juicer Letter":
When you'd like to send the "Juicer Letter," click the Show-Hide button to hide the "hidden text" and you'll have the following: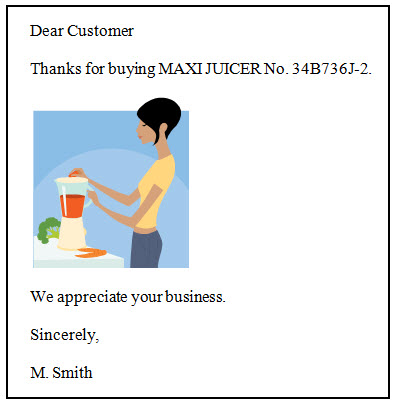 To send the "Mixer Letter":
When you'd like to send the "Mixer Letter," again click the Show-Hide button to display  the "hidden text" and then DELETE all the Juicer info. That leaves you with the following letter: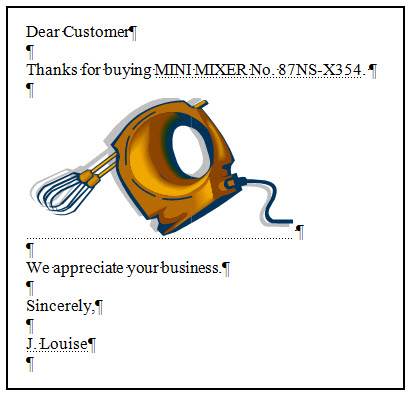 IMPORTANT: Do NOT print the letter yet since the hidden text and image will not print as is.
SOLUTION: First select all the letter (Ctrl + A) and then press Ctrl+Shift+H twice to remove ALL HIDDEN ELEMENTS from your letter. Now when you print, the "Mixer Letter" will print appropriately.
IMPORTANT 2: To preserve the hidden text and image markers in your letter, close it WITHOUT saving it. If you save your letter at this point, you will be saving just the "Mixer letter" and discarding all the Juicer information and image that you have saved earlier at Step 6 (above).
CONCLUSION: Yes, I know, it's a little bit of work, isn't it? Perhaps now you understand and appreciate better why some people use Adobe FrameMaker instead of Word. FM has well-developed "conditional text" function which does not force you jump through so many hoops like MS Word does.