The following two tabs change content below.
Latest posts by techwriter (see all)
© Ugur Akinci
Adobe FrameMaker 12 comes with a powerful publishing functionality that can publish in five different output formats:
Responsive HTML5 (which automatically adapts the help controls according to screen width)
ePub
Kindle
Web Help
Microsoft HTML Help
(This is of course in addition all the other output formats (like PDF) that you can select when you are doing a "File > Save As".)
Of these five, the three help options work flawlessly. However, in the test I conducted, I could not produce a Kindle and ePub output. (POSTSCRIPT: This result is for batch publishing. Later on I tried publishing to Kindle's MOBI format by using a non-batch method, that is, by just selecting the Kindle option from the Publish dialog box. FM did publish successfully; however, for some reason all the images were stripped from the final output. So I still think FM12's Kindle and ePub outputs are not as smooth as HTML outputs.)
I'm especially impressed with the Responsive HTML5 option since there are courses now teaching developers how to code for different screen widths. FM 12 does that straight out of the box, with just a single click. That's very impressive indeed.
Another remarkable point is FM now generating help files smoothly, a function that earlier required Adobe RoboHelp or some other user assistance program like WebWorks or Flare. You do not need RoboHelp anymore to produce help files from FM files. FM 12 can generate that natively, without the need to export the FM files to any other application.
Here is the test conducted and its results:
I've prepared a simple FM 12 file consisting of two different heading levels, some body text, an image, and a table. I was curious to see how FM 12 would handle such a simple file when I submitted it to its publish engine.
The FrameMaker 12 Source File
(Click all images to enlarge them)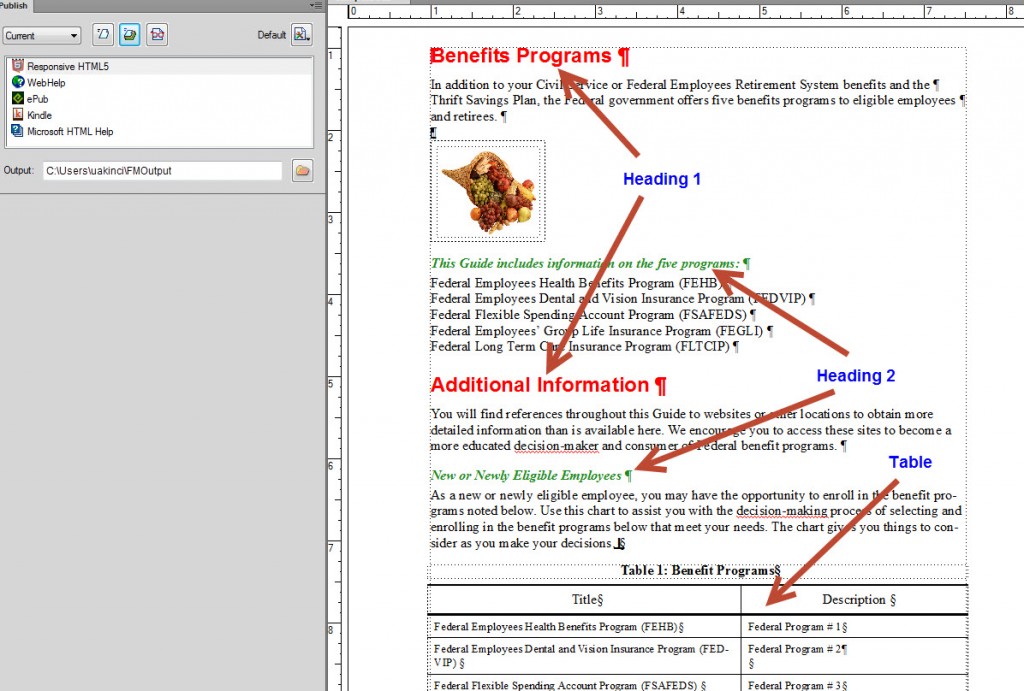 1) Select File > Publish to display the Publish pod. (I prefer to dock it on the upper left corner of my workspace.)
2) Click the Generate Multiple Outputs button.
3) Select all the output formats.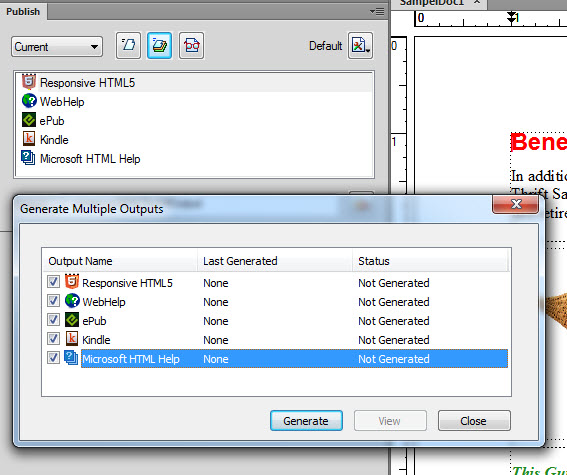 4) Click Generate.
NOTE: If you have not downloaded Kindle executable you may get a warning message. Click the link, go to Amazon Kindle web site and download and install the Kindle executable.

5) When the process is finished, click the View button to view all the help file outputs.
Traditional Microsoft HTML help file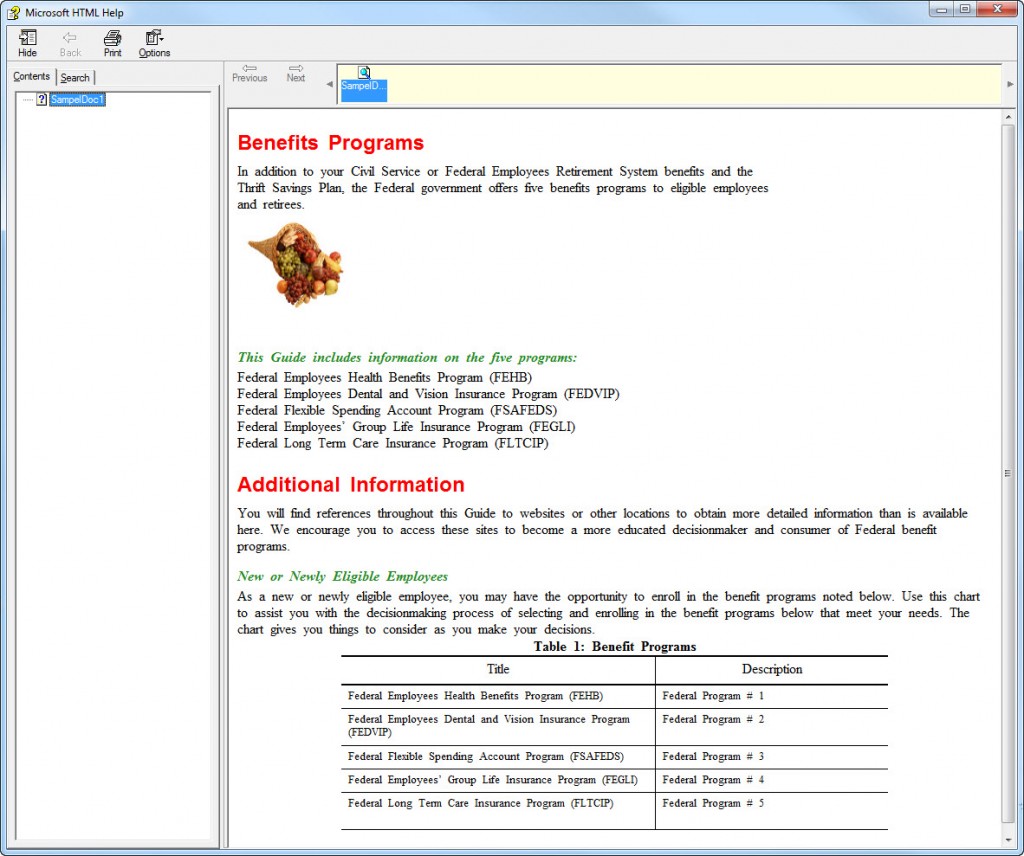 This is a great smooth output, with all the elements in the source file converted nicely into HTML format.
Web Help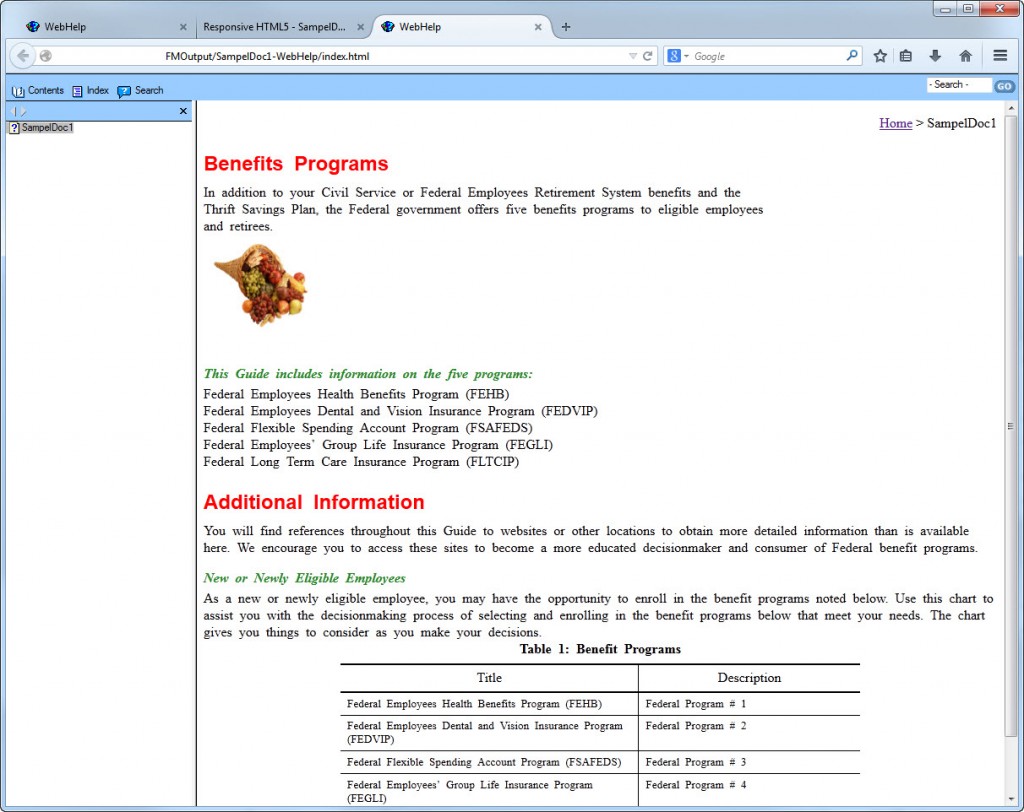 Another perfect output! Bravo Adobe.
Responsive HTML5
Here is what the responsive output would look like if you display it on a desktop: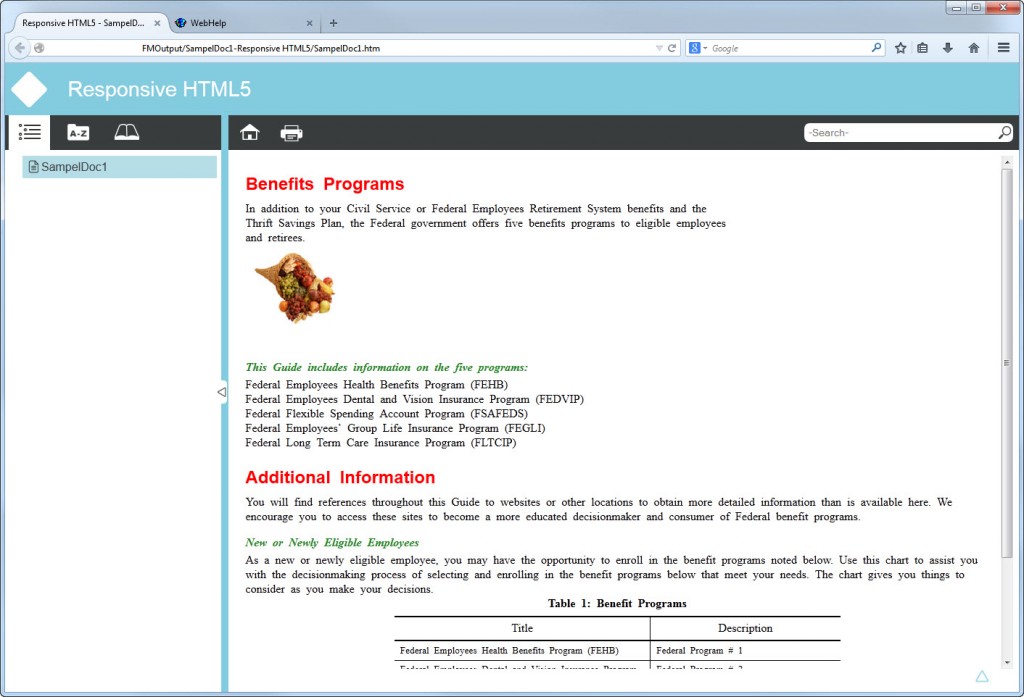 This is the same file on an iPad (just shrink the above screen horizontally):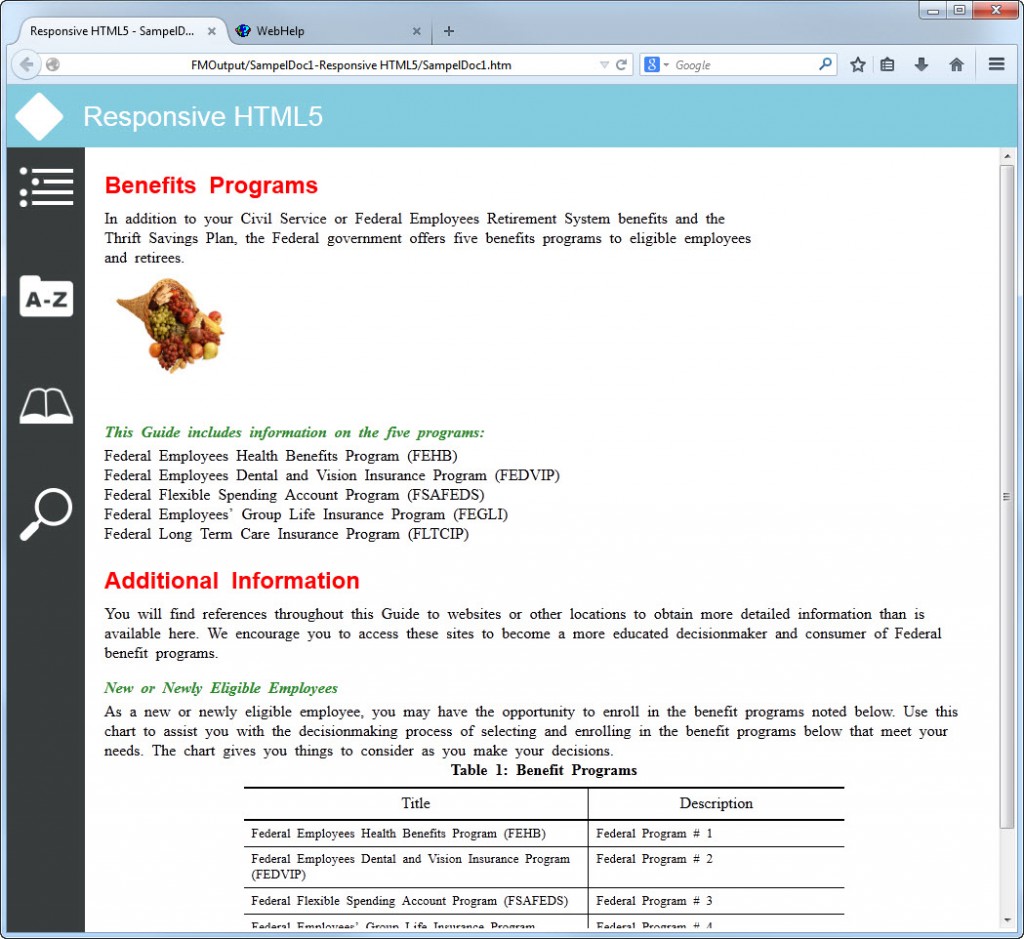 Notice how the control buttons have changed place and the layout arranged itself automatically by switching to a new style sheet. ALl this happens behind the scenes without you writing a single line of code!
And lastly, here is the layout for a smart phone, with a smaller screen size: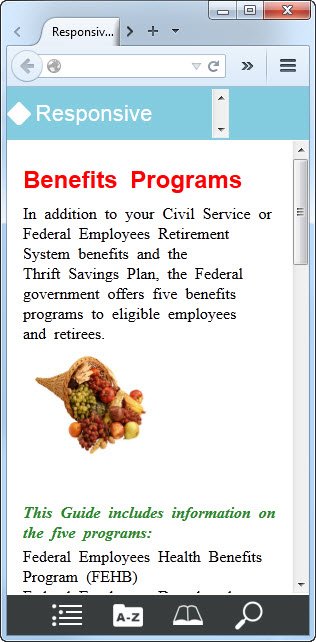 If you are looking for a "text and layout editor" which can publish to three popular HTML formats with just the click of a button, then Adobe FrameMaker 12 is for you. Download a trial copy for 30 days to try it out for free.