The following two tabs change content below.
Latest posts by techwriter (see all)
© Ugur Akinci
MS Word 2013 has two new features that I like (among many others).
1) "Welcome back"
When you open a Word file that you've been working on previously, Word 2013 pops up a small "Welcome Back" reminder which has a link to the last place where your cursor was. Plus, it also tells you what day of the week it was that you worked on the document the last time.
A simple but useful feature that tells me how hard Microsoft is working to maximize the UX (User Experience).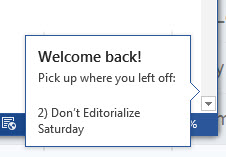 2) Insert Pictures
MS Word had an "Insert Picture" functionality but now it is expanded in 2013. Now you have access to not only one clip-art and photo collection but three:
(Click to enlarge the image)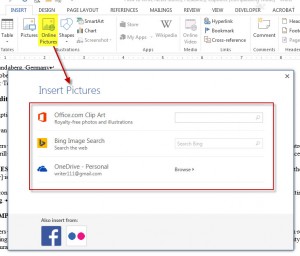 (By the way, I have no idea why Adobe FrameMaker still does not have a similar image collection shipping with the product.)