The following two tabs change content below.
Latest posts by techwriter (see all)
© Ugur Akinci
MS Office applications can and do store metadata in files created by such applications as MS Word, Excel, and PowerPoint.
The metadata is sometimes useful if you'd like to record the author's name, the date of creation, etc. with the file.
But in other times, especially when you are creating legal documents, the metadata can create embarrassing and even disastrous results  if, for example, your document is delivered with the comments and previous edits made to the document. Such information may look invisible when the document is delivered but can be discovered easily if it is not deleted and cleaned up before delivery.
Thus in general it's a good idea to scrub your files from all metadata unless you have a specific and clear reason to include them.
With single files it's easy to do that.
But what if you have 100 Word files? Or 500 Excel workbooks? Cleaning up all those files one by one manually would be a formidable task.
Here are three applications that can solve your problem and clean up your files in a wholesale fashion: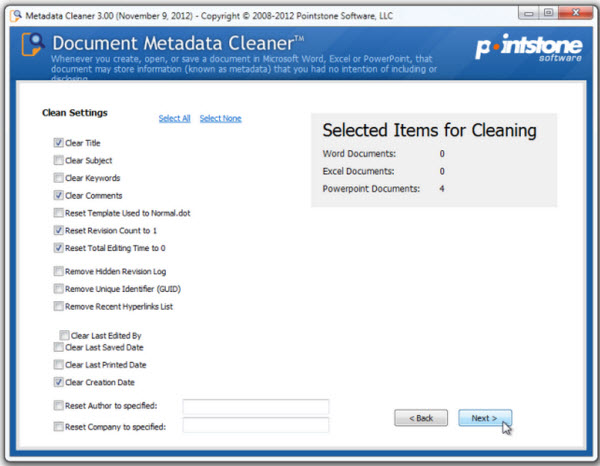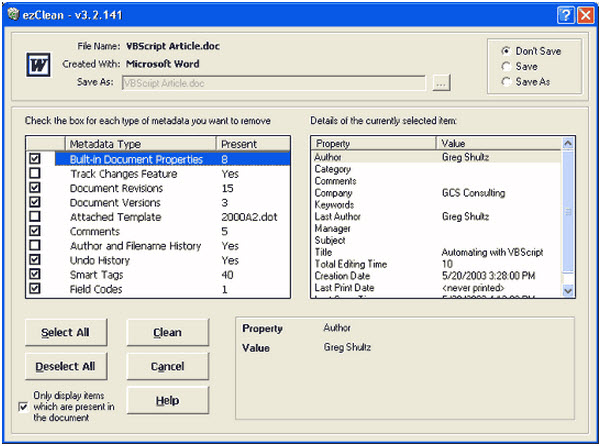 Check them out and see which one you like the best.