The following two tabs change content below.
Latest posts by techwriter (see all)
Alena Baronava
Special for TCC
You must have experienced a good amount of frustration, when you have opened a file sent to you, only to fine gibberish splashed all over the page. Now imagine the seriousness of the situation, when you send your resume for a job interview, and all that the interviewer can see is gibberish. Alternatively, maybe, you have sent important jpeg files to your boss and he cannot view them. You realize your loss, only when you experience it yourself.
Go4Convert can make sure that you never have to experience anything like that – ever! Our PDF converter will enable you to convert any type of file into PDF format in just one click. You don't even have to download a converter or any file as our service does the conversion online.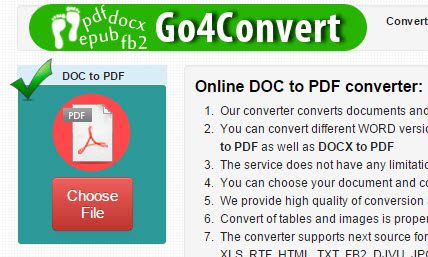 You can easily convert DOC and DOCX files, image formats such as GIF, PNG, JPEG, WMF, TIF AND BMP files, DJVU, XLS, XLSX, RTF, ePUB, HTM/HTML, FB2, TXT, or ODT files into high quality PDF format. Simply follow the steps mentioned below.
Step One: Go to go4convert.com
Step Two: Click on the conversion options mentioned on the top of the home page.
Step Three: Once you are on the page, click on the "Choose File" button.
Step Four: Your computers Explorer will open, for you to choose the desired file.
Step Five: Once you choose the file, the file will automatically upload and start the conversion process.
Step Six: Once your file is converted, it will automatically download it on your computer in the desired PDF format.
Step Seven: Save your file in the desired location.
Whether you are converting Word to PDF or JPEG to PDF, all you have to do is choose the right tab for the format you desire and click! The key feature of our online conversion service is that the format and the layout of your document remains the same. Languages are converted properly – as they were in the original file. Images, tables, and charts are transferred correctly in terms of the size, quality, and layout of the original file.
With Go4convert, you can convert a large number of files at the same time. Big sized files are also easily converted and there are no limitations on the size.
The best thing about the service is that it is a smart service. It can immediately recognize files without extensions and convert them on the fly.
Click, sit back and our conversion make your life easier for you.