The following two tabs change content below.
Latest posts by techwriter (see all)
© Ugur Akinci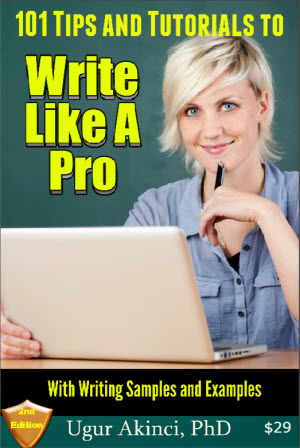 Why I Wrote This 318-Page Book
"It's none of their business that you have to learn to write. Let them think you were born that way" – Ernest Hemingway
Writing can be taught. Definitely.
When we read a good writer we tend to think she is born that way. Nothing can be farther from the truth.
Behind every great writer there are long years of sweating over the basics, learning from the mistakes, and repeating what works while trying to forget what doesn't. It's a dynamic process of reconstruction on a daily basis.
As a full-time professional writer who has worked for Fortune 100 corporations since 1998, I myself have benefited from all of the ideas presented here.
It is my sincere belief that if you study these tips and tutorials and apply them, you are guaranteed to become a better communicator.
I wrote this book to help you become a better writer and advance in your career.
Some of the content is at a basic level and others are not. But all of them should be at your disposal when the opportunity arises to reach out for them. Think of it as a tool kit that you can use for all kinds of repairs and new writing assignments.
This second edition has been revised cover to cover.
I have taken out some of the old content and replaced them with totally fresh entries.
I have also added those quotes about writing and success in life that have inspired and amused me over the years. I hope you'll enjoy them too.
If you have any suggestions for improvement, you can send them to me directly at writer111@gmail.com. I read all my email and respond promptly. I thank you in advance.
May your writing projects bring you all the peace, joy and prosperity that you deserve.
Sincerely, Ugur
"A little talent is a good thing to have if you want to be a writer. But the only real requirement is the ability to remember every scar." – Stephen King
Why You Should Read This 318-Page Book
"Get it down. Take chances. It may be bad, but it's the only way you can do anything really good." – William Faulkner
This book will improve your writing skills and build up your writing muscle right away since it contains not only abstract "writing ideas" as such but also hundreds of examples of how to implement those ideas.
We all learn better by not only reading about something but also watching how it's done and then trying to do the same. That's the same principle I've followed in writing this book.
After introducing each idea, I'll show you how it is actually done. All you need to do is follow the examples and create new samples of your own.
This is a jam-packed big collection of writing samples and tutorials that will make you become a better writer in no time.
It is ideal for high school and college students, ESL students, writers at all levels of skill and experience, career changers, freelancers, and anyone who simply enjoys the art and craft of good writing.
The book is written for fiction and non-fiction writers alike for two good reasons:
1) Some writers switch back and forth between these two main categories. You may be a technical writer during the day to earn your paycheck but switch to fiction writing in the evenings and over the weekends for pleasure and glory.
2) Some of the techniques introduced here are applicable to both types of writing like (let's say) varying the length of your sentences, or getting rid of old and hackneyed expressions.
So here we go…
Dive in and enjoy!
A 318 page (PDF file) treasure of good writing tips and tutorials including
Use Analogies (page 33)
Cut Out What's Not Necessary (page 67)
Replace the Verb "To Be" (page 94)
Use Proper Opposites (page 135)
Foolproof Formula for Catalog Copy (page 155)
10 Rules to Avoid Awkward Writing (page 230)
Avoid "Trash Can" Sentences (page 256)
John Steinbeck's Writing Lesson (page 261)
How to Boost Your Writing with Photos (page 309)
And much much more!
Only $29
TABLE OF CONTENTS
Chapter 1. Write as You Speak
Chapter 2. Write Fast
Chapter 3. Repeat Your Main Idea Four Times
Chapter 4. Write with Your Five Senses
Chapter 5. Be Specific
Chapter 6. Write for Your Audience
Chapter 7. Use Gender-Neutral Language
Chapter 8. Be Consistent
Chapter 9. Use Analogies
Chapter 10. Identify the Essence of a Topic
Chapter 11. Write a "Hamburger"
Chapter 12. Use Causality Correctly
Chapter 13. Use Only Relevant Facts and Details
Chapter 14. Eliminate Sentence Fragments
Chapter 15. Use Passive Voice When Appropriate
Chapter 16. Use Parallel Construction
Chapter 17. Vary the Length of Your Sentences
Chapter 18. Break Up Mega Sentences
Chapter 19. Cut Out What's Not Necessary
Chapter 20. Eliminate Expletives
Chapter 21. Don't Pontificate, Unless Clearly Authorized
Chapter 22. Don't Repeat Words
Chapter 23. Don't Write The Obvious
Chapter 24. Eliminate Ambiguity
Chapter 25. Don't Use Gobbledygook Words and Phrases
Chapter 26. Eliminate Hackneyed Expressions
Chapter 27. Start Copy in Mid-Action
Chapter 28. Follow the 4 Rules of Step-by-Step Descriptions
Chapter 29. Replace the Verb "To Be"
Chapter 30. Translate Numbers into Images and Ratios
Chapter 31. Use Colons and Semi-Colons Correctly
Chapter 32. Use Hyphens Correctly
Chapter 33. Use Dashes Correctly
Chapter 34. Use "Different From" and "Different Than" Correctly
Chapter 35. Use "Fewer" and "Less" Correctly
Chapter 36. Use "Strategic", "Tactical" and "Ad Hoc" Correctly
Chapter 37. Avoid "Misplaced Modifiers" or "Dangling Participles"
Chapter 38. Eliminate "Very"
Chapter 39. Eliminate Adverbs
Chapter 40. Use "Lay", "Lie" and (the other) "Lie" Correctly
Chapter 41. Use "AND" Correctly
Chapter 42. Watch Your Transitive and Intransitive Verbs
Chapter 43. Use "Momentarily" Correctly
Chapter 44. Pay Attention to How You Use "Only"
Chapter 45. When Necessary, Use Jargon
Chapter 46. Use Proper Opposites
Chapter 47. Observe the Golden Rule of Copywriting
Chapter 48. List the Features, But Stress Benefits
Chapter 49. Master the 3 Secrets of Powerful Envelope Copy
Chapter 50. Spend Some Time Over Your Headlines
Chapter 51. Use the 4-U Method for Powerful Headlines
Chapter 52. Use the Foolproof Formula to Write Great Catalog Copy
Chapter 53. Create a Sense of Urgency in Direct Mail Copy
Chapter 54. Ask These 5 Question to Establish a Great USP
Chapter 55. Don't Make Your Readers Think
Chapter 56. Write Like an Insider
Chapter 57. Avoid Sloppy Copy
Chapter 58. Avoid Stuffy, Artificial, and Redundant Clichés
Chapter 59. Use Testimonials
Chapter 60. Be Careful When Writing for an International Audience
Chapter 61. Write a "Micro-Site" or Landing Page
Chapter 62. Pay Attention to Web Page Titles
Chapter 63. Write Lean on the Web
Chapter 64. 7 Rules to Write Successful Newsletters
Chapter 65. 4 Steps for a Perfect Press Release
Chapter 66. Writing a Vignette
Chapter 67. Writing a Movie Review
Chapter 68. Writing an Obituary
Chapter 69. Make Your Verbs Agree with Your Subject
Chapter 70. How to Write a Business Plan
Chapter 71. 10 Rules to Avoid Awkward Writing
Chapter 72. Right-Branch Your Sentences
Chapter 73. Don't Forget the Power of "Fear and Greed"
Chapter 74. Pay Attention to Transitions
Chapter 75. Edit Technical Copy by Deleting and Simplifying
Chapter 76. Avoid these 5 Common Writing Mistakes
Chapter 77. Don't Jump Tracks in Mid-Copy
Chapter 78. How to Write A Lot and Well
Chapter 79. Watch How You End Your Sentences
Chapter 80. Avoid "Trash Can" Sentences
Chapter 81. Use "That" and "Which" Correctly
Chapter 82. John Steinbeck's Writing Lesson
Chapter 83. Six Principles of Web Writing
Chapter 84. Use "Me" and "I" Correctly
Chapter 85. Split Long Sentences into Shorter Ones
Chapter 86. Avoid Phrasal Verbs
Chapter 87. Honor Your Writing "Voice"
Chapter 88. Write As If You Are Cooking
Chapter 89. How to Write a Great White Paper
Chapter 90. Write with Integrity
Chapter 91. Break Apart and Conquer
Chapter 92. Write First Things First in Procedural Writing
Chapter 93. 14 Ways to Write Powerful Titles and Headlines
Chapter 94. Outline Before You Start Writing
Chapter 95. Try Transcribing instead of Writing
Chapter 96. How to Write with "Dramatic Conflict"
Chapter 97. Avoid "the (a) __________ of" Construction
Chapter 98. Write with Metaphors to Propel Your Writing to a Higher Orbit
Chapter 99. How to Untangle the "Noun Trains"
Chapter 100. How to Boost Your Writing with Photos
Chapter 101. 13 Time-Tested Recommendations for All Writers
INDEX
Only $29