The following two tabs change content below.
Latest posts by techwriter (see all)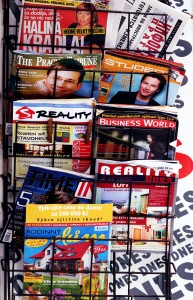 © Ugur Akinci
Article marketing (AM) is one of the better ways of promoting and generating traffic for your web site, goods or services.
There are dozens of (AM) sites catering to writers and web site owners.
Some of the better ones include www.ezinearticles.com, www.website-articles.net, and www.xomba.com.
Here is how AM works:
1) You write an article with your name and web site linked embedded either in the body of your article or the footer. What you can or cannot do depends on the specific editorial policies of the specific article marketing site.
2) You post it to your favorite article marketing site.
3) When people read your article, they will hopefully click your link(s) and generate new traffic to your web site.
There are three main types of AM sites out there:
1) Those which are are designed to have your articles REPRINTED by others (like Ezine Articles and Website Articles). When your article is reprinted to be republished in a web site or ezine, your links get re-published as well, propagating new traffic with a chain reaction.
2) Those that are not specifically designed to have your articles reprinted (like Xomba) but they do not prohibit reprints either, hopefully with your links intact.
3) Those that specifically prohibit any reprints.
There is another division among these web types in terms of
revenue sharing:
1) Those that share their advertisement revenues.
2) Those that don't (a majority of the article marketing sites out there).
3) And some that pay upfront to purchase all or limited rights to the article (like Associated Content).
You can use article marketing to promote your client's goods and services as well. You can do that by including your client's web link at the bottom of the article instead of yours.
Here is a directory of the better known AM websites:
To automate your article posting, you can use software like
Advantage of posting the same article to multiple article sites:
You can generate more links and get more visitors.
Disadvantage of posting the same article to multiple article sites:
Search engines punish multiple postings with the same content by dropping the page from their indexes. If that happens, your article may stop showing up in the search engines for searches conducted with your keyword.
NOTE: No less an authority on Article Marketing than Allen Graves, owner of Website Articles, recommends posting your articles to more than one top-traffic site. I personally post them to 2 or 3 sites although when I first started article marketing 3 years ago I used to post to 5 or 6.
There are software designed to "modify" your existing articles so that they will look "new" and thus fool the search engines. Article Composer is one such product. However, I do not recommend using any such software to cut corners if you'd like to develop a following and healthy traffic for your web site.
Today's Internet browser is just like YOU – sophisticated, educated, and with a good sense to tell the genuine article from the fake marketing gimmick. To get real results from your efforts I highly recommend to write your own original articles and share the best of what you know with all your readers, like I try to do here.
RESOURCE: "Article Marketing Handbook" by Allen Graves given out as a bonus to all those who subscribe to Website Articles membership site. I really think it is the best 100-page book you can read on article marketing anywhere.
My Top 3 Article Marketing Content Tips
1) Never use any dates in your articles since you have no idea when the reader will read it. Time-related language like "yesterday" or "last week" is meaningful in a blog post because all posts have a time stamp. But an article you write "today" can be read three years later, which makes such time designations meaningless.
When trying to refer to the current conditions that might have changed by the time your reader gets to the article, you can use a general expression like "at the time of this writing." That will afford you some "plausible deniability" in case the facts you mention in the article change and you are not aware of it.
2) Do not use Microsoft "Smart Quotes" (the curly ones) in your articles since they mess up the RSS feeds and are replaced by ugly-looking substitutes. Always use straight quotation marks, the kind provided by simpler text editors like Notepad or WordPad. Or, do this in your MS Word:
Select Tools > Autocorrect Options.
Select the Autoformat tab (sometimes it is the Autoformat as You Type tab, depending on the MS Word version you have).
Un-select the "Replace Select Quotes with Smart Quotes" check box.
Click OK to save it and you're done.
3) Do not use any serialization numbers in your article titles since readers will never know the others in the series. Try to write each article as an independent piece and title each article accordingly. Within a blog, such serialization makes more sense since the reader can easily locate other articles in the series. But it is harder to do so on the Internet where each article in the series may be reprinted on a different web site by a different publisher.